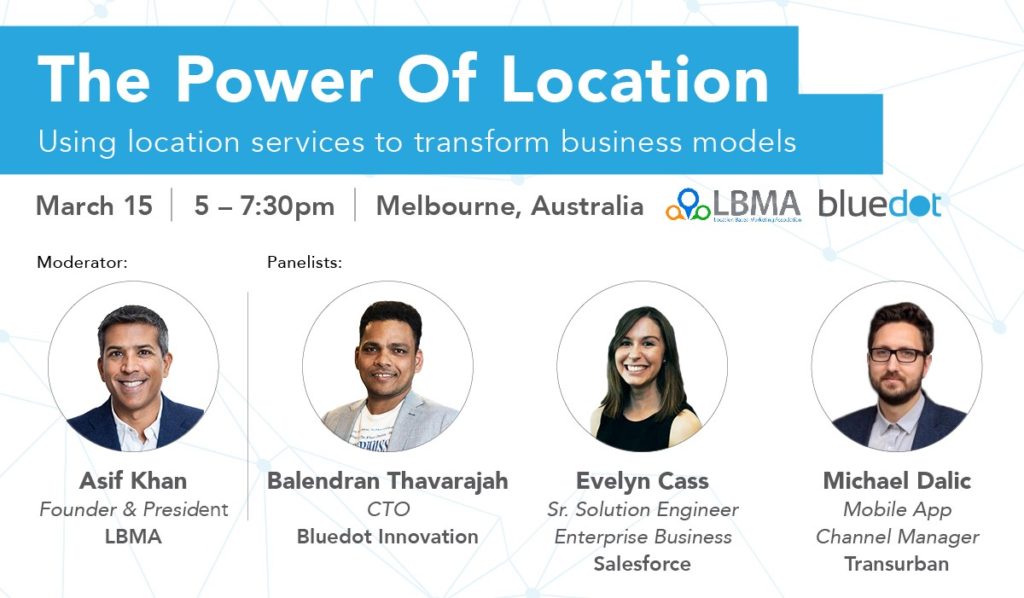 Bluedot to Host LBMA Australia Panel on Power of Location
Bluedot Innovation is excited partner with the LBMA Australia chapter to host a panel on the power of location in transforming business models.
Leaders from Bluedot, Salesforce, and Transurban will be discussing the diverse array of location solutions and data as it pertains to new business models and revenue streams. The Power of Location: Using Location Services to Transform Business Models is going to be held on March 15, 5:00-7:30 pm, at Bluedot Innovation's Melbourne office, 11 Agnes St.
Asif Khan, Founder & President of Location Based Marketing Association, will provide an overview of the latest research and case studies highlighting the growing use and application of location-based media and technology for marketing. The LBMA has members around the world and is dedicated toward the research, education and collaborative innovation at the intersection of people, places, and media.
Drinks and light refreshments will be provided.
Agenda:
5:00 - 5:30 pm Check-in and networking
5:30 - 5:35 pm Intro by Bluedot
5:35 - 6:00 pm LBMA report by Asif
6:00 - 7:00 pm Power of Location panel discussion + Q&A
7:00 - 7:30 pm Networking
Moderator:
Asif Khan
Founder & President, Location Based Marketing Association
Panelists:
Balendran Thavarajah
Chief Technology Officer, Bluedot Innovation
Evelyn Cass
Senior Solution Engineer of Enterprise Business, Salesforce
Michael Dalic
Mobile App Channel Manager, Transurban
Admission is free but RSVP is required since spaces are limited.
We hope to see you there!