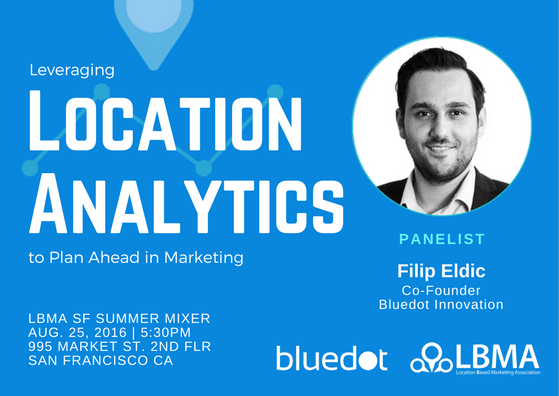 Filip Eldic to Speak on Ad Attribution at LBMA Event
Filip Eldic, Co-Founder and Executive Director of Bluedot Innovation, will be speaking on location analytics and ad attribution at an upcoming Location-Based Marketing Association event in San Francisco.
The panel on the topic of "Leveraging Location Analytics to Plan Ahead in Marketing" will discuss how research and location insights from the past can help ensure future marketing success.
Having helped many companies use location services to transform their business , Eldic will share a case study on leveraging location analytics for ad attribution and launching effective marketing campaigns.
Many of Bluedot customers use our razor-thin, virtual tripwires known as Geoline™ technology and our advanced analytics suite to drive location-based engage with their customers and track campaign attribution.
Marcus Andersson, VP Sales & Marketing of Senion, will join Eldic and a special guest on the panel.  Tim Hayden, President of the LBMA SF Chapter and Advisor at Zignal Labs, will moderate the panel discussion.
Details

Thursday, August 25, 2016
5:30 PM to 7:15 PM
WeWork
995 Market St, 2nd Floor, San Francisco, CA
This event is free and open to LBMA Members and Non-Members.
Click here to register for the event
To learn more about ad attribution and location analytics, check out this page.