JOIN OUR TEAM AT BLUEDOT
The place for caring, inventive people who want to make an impact.
As migrants, refugees, travelers, and transplants, we understand the power of place. Certain locations hold a special significance for us, our family and friends. We'll never forget the spot we proposed, the home games of our favorite football team, the traveling adventures with friends, our first live concert, the lingering goodbye hugs at the airport, and so many others.
The power of place lies in the value, experience, and memory associated with each one. Thousands of people can walk down the same street and have vastly different experiences.
Bluedot exists to enhance the power of these places and enable meaningful experiences by inventing best-in-class technology.
Values
We can only achieve our mission of enhancing the power of place
by living our values: Invent, Impact, and Care.
We INVENT,
therefore we:
Continuously generate, build and test new ideas.
Push the boundaries of what's possible to solve problems and address root causes.
Ensure the best ideas win, not the biggest egos.
We IMPACT,
therefore we:
Focus on the final output – what will this produce?
Execute the 20% of work (first) that will generate 80% of the results.
Own our work and feel empowered to make the best decisions with the information we have, in the midst of ambiguity and uncertainty.
We CARE,
therefore we:
Respect each other by valuing everyone's time and collaborating efficiently.
Do right by our customers even if it costs us. We don't cut corners.
Give others the benefit of the doubt and defend their dignity, even when they're not around.
Bluedot Benefits
The big and little ways we care for our team.

Opportunity to Invent
Work with a market-leading product and redefine what's possible with location.
Premium Health Benefits
Get premium health, dental and vision benefits, plus generous sick leave.
Flexibility
We value work and life and know that sometimes one has to flex for the other.
Company Equity
When we succeed, we all succeed.
Device of Your Choice
Get the tools to get 'er done.
Team Events
Lunches and outings to celebrate milestones, hack week, and more.
Pre-Tax Savings
Save money with available pre-tax allocations. Cha-ching!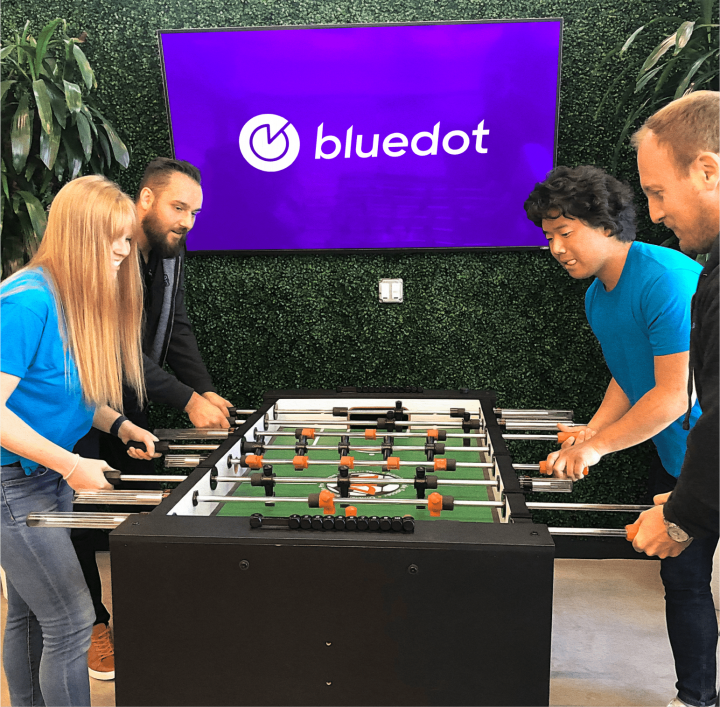 Working At Bluedot
What do Pokémon GO, Armenian politics, a job board, and murder ballads have in common?
Our San Francisco-based Bluedot team. Our backgrounds and interests are as varied as they come – representing five different cultures and seven languages.
Read Laura's take on Bluedot culture.
One of the things I love most about working at Bluedot is being able to relax and just be my honest, complex self. For me, this is most clearly shown in how we share our stories and interests with each other on a daily basis.
One thing I know about working at Bluedot: you will not die under-caffeinated. Anytime someone is going for coffee, they'll ask if you need one and grab it with their order, or they'll make one for you on the office coffee machine.
Could Bluedot be

your

(work)

place

?
We're always looking for caring, inventive people
who want to make a difference.