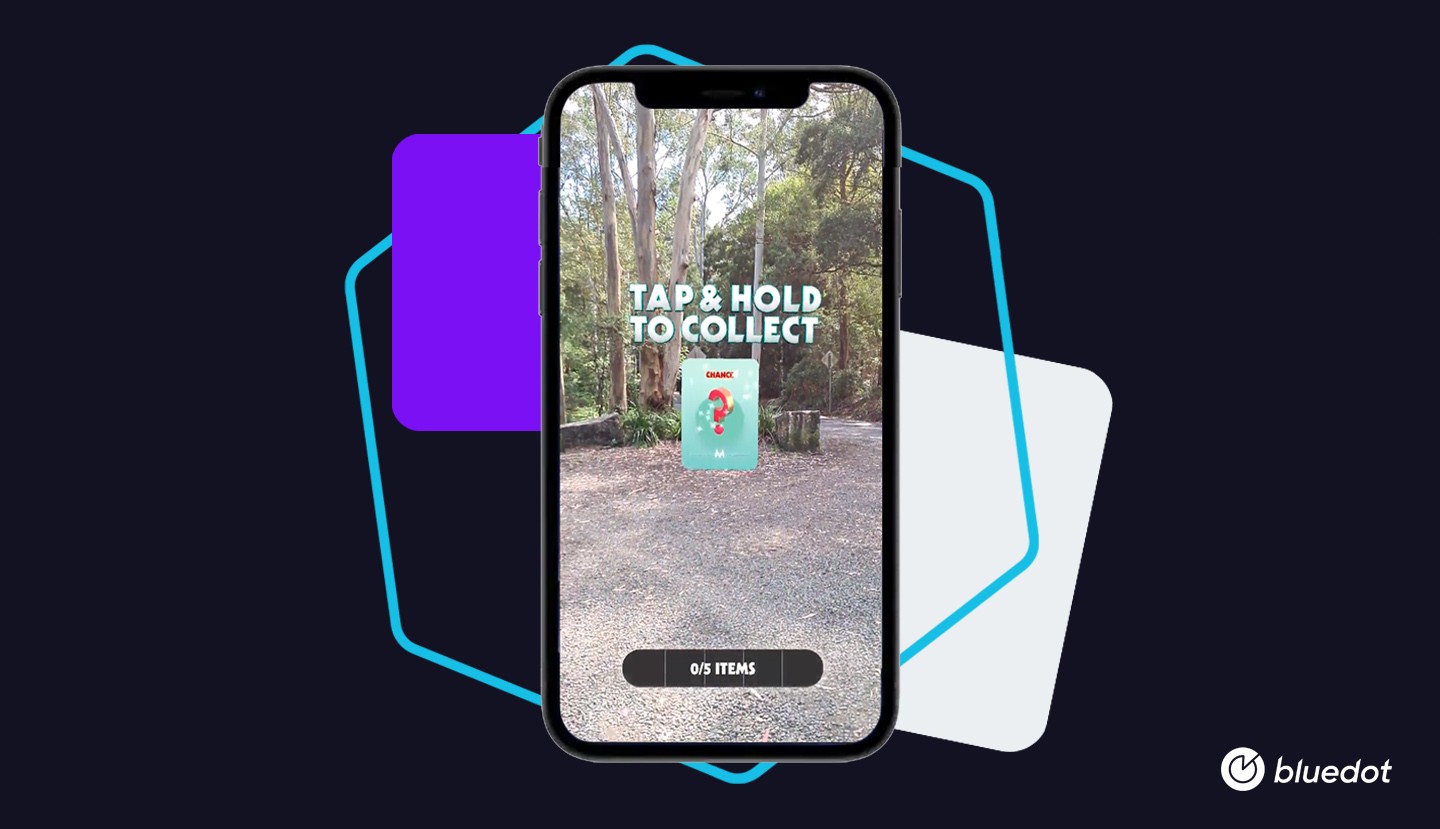 Bluedot Levels Up Location-Based Gamification for Augmented Reality (AR)
Boost app downloads, in-store visits, and customer loyalty while delivering high-value data to brands.
Today, we're building on the success of our gamification solution by expanding it to power contextual augmented reality (AR). This enhancement leverages location precision technology to enable advanced AR gaming experiences, similar to Pokemon Go.
Location-Based Gamification Solutions
Bluedot's gamification solution, which embeds into the mobile apps of retailers and restaurants, offers a fun and engaging brand experience while increasing app user acquisition with high permission and adoption rates. 
Our technology enhances customer interactions at designated locations and enables customizable gaming experiences. This can include real-world quests, earning badges based on visit frequency, and unlocking tiers from completing location-based activities. 
With location-based gamification, businesses not only build brand affinity but also reap the benefits of increased foot traffic, higher revenue, and deeper loyalty engagement. In addition, gamification provides first-party insights that enable richer CRM.
Bluedot's flexible tech stack for gamification allows for both simple and advanced game engagement. For instance, location-based store triggers can be utilized to "spin-the-wheel" for on-site rewards. It can also be leveraged for location-specific, degree-specific AR triggering, much akin to "hide and seek". Our hyper-accurate location detection technology makes this possible. Below is an example of our location-based gamification work for McDonald's whereby the player has to "seek out" a Chance Card. 
Restaurants and retailers can trigger gamification experiences at storefronts, iconic public locations, or even park benches where app users can find treasures and unlock rewards. 
Imagine wowing users with interactive AR characters that welcome customers, say hello, give pep talks, provide clues, and more based on the app user's precise location. Density control is also built-in to ensure safety and social distancing.
Key New Features:
Gameplay Dashboard 
Offers real-time data to view current players in-game through a customized dashboard. Businesses can locate "hot" zones and geofences for in-play decision-making. Brands can customize and monitor the gamification experience in any increments as well as see the all-time view.  
Intelligent Zone Set Up
Programmatically create perimeters through product logic to determine and prioritize what the end-user sees in the game. Businesses can run queries so that the gamification experience is only created around zones like parks, trails, sidewalks, etc. but avoids less desirable locations like a liquor store, highway, road, river, etc., enabling a safe experience for the consumer. The platform allows for zone overlaps and multiple conditioning for a deeper interactive experience. 
Density Management
Provides real-time crowd control to show the number of people in one particular zone and enables flexibility to turn off geofences or zones. 
Simulator
Creates real-life load testing to simulate the consumer gaming experience. When you have thousands or millions of players on simultaneously, our simulator ensures that the payload is stable and manageable. Check-ins and triggers are measured in milliseconds. This enables businesses to operate at scale and achieve a "no-delay" gaming experience. 
Games make life fun! We're excited to expand our award-winning location software into scalable gamification solutions. As we continue to develop cutting-edge technology to power more meaningful interactions between brands and their customers, we look forward to seeing brands launch truly engaging campaigns. 
Related Content:
Launch a location-based game of your own with our Gamification Campaign Guide. The ideas in this guide bring the fun and excitement of games to everyday interactions using location.

About Bluedot
Bluedot is trusted by many of the largest enterprises such as McDonald's, Dunkin', GoToll, and  IAG among others. With pinpoint accuracy, Bluedot can identify the moment customers enter the drive-thru, arrive at curbside, or pass a toll location. Bluedot drives consumer engagement with advanced gamification, personalization, and loyalty solutions. Inherently compliant with GDPR and CCPA, Bluedot focuses on protecting end-user privacy.