Geofencing for Travel Apps: How to Enhance Tourism and Hospitality Experiences
Picture yourself in a new city with countless things to see and do. You open an app that explains historical landmarks and shows nearby museums. It even suggests highly rated restaurants and coffee shops near you.
Creating a mobile app like that might seem like an expensive project. However, it can be built using basic geofencing technology.
Geofencing has been around since the 1990s, but the technology has come a long way since then. At its most basic, a geofence is a virtual perimeter around a real-world location. It allows smartphone apps to detect when users enter or leave an area, and how long they stay.
Geofencing tech has advanced in recent years. Modern geofences can be shaped into complex polygons, which can detect a user crossing the boundary within milliseconds.
 
Before building an app with this technology, keep in mind that not everyone is comfortable sharing their location. Users first need to opt-in and agree to share their location data. Responsible geofencing app developers also safeguard privacy by anonymizing or hashing the data.
 
With this in mind, should tourism apps use geofencing? Well, competing with the big names that dominate the travel and tourism industry isn't easy. Challengers have to think creatively. Offering a more personalized experience could be a competitive advantage.
Geofencing for Travel Apps: Points of Interest
How should travel and tourism apps use geofencing? Start by identifying points of interest you'd like to include. Then suggest the perfect places for each visitor to check out, based on their interests:
Historical landmarks or monuments
Museums, art galleries, and cultural events nearby
Interactive activities like dancing, pub trivia, music or comedy venues. Also consider guided tours, swimming pools, wine tasting, bikes or paddleboard rentals
Seasonal events such as parades, holiday activities or scavenger hunts
Nearby restaurants, food carts, coffee shops, souvenir shops, and ice cream parlors
By integrating a user's location with messaging services, you can send an app notification or SMS push notification. This helps create an individualized user experience.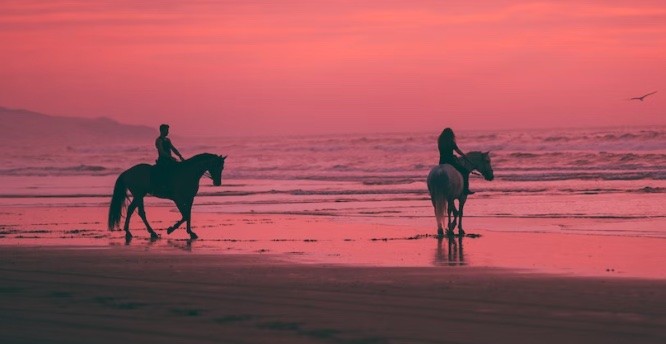 Geofencing Applications
Points of interest are a great way to start using geofencing in your travel app, but there are more advanced things you can add:
Special offers

: give local businesses the ability to share coupons or discounts through your app

.

Geofencing marketing is a powerful way to automate these offers when potential customers are nearby and the

offers are relevant

.

Personalized suggestions

: Geofencing also allows you to make trend-based suggestions. Your app can use a notification to suggest popular nearby activities. For example, visitors who spend the afternoon at a park might like to visit a nearby ice cream stand next. Your app can use a push notification to suggest it to other people in the park.

Or if there's already a line at the most popular place, your app can suggest a less-crowded small business that's also

highly

rated

.

Custom day planning: Use the app to allow tourists to build their perfect day. Include walk times or transportation options between each location on the itinerary. Based on current location, the app can also notify them about sights to see along the way. 

Digital docent: Use notifications to guide visitors around a zoo, museum, interpretive center, or art gallery. Share useful information and trivia, or try to gamify the experience with quizzes. 

Hot spots

: With real-time aggregated geolocation information, your app can show visitors where crowds are

. That way, they can find the most popular activities (or avoid the crowd if they prefer). 
Adding Geofencing to Your Travel App 
Setting up geofence technology can be a little time-consuming at first.
Fortunately, once the locations are mapped out,
it doesn't
require
a lot of upkeep
(it's not like the zoo is going to
relocate
every six months
!)
Your app development process starts by identifying the key geofenced areas and points of interest (POI) to add.
Bluedot's geofencing software already has more than 200 million POI built in, making this step a lot easier
.
Next, you'll set up virtual boundaries around each specific location using a Google Maps overlay. Some areas can use a default circular geofence.
Other times, you'll need complex polygonal shapes around stadiums, shopping centers, food cart pods, beach areas etc
. 
At this point, you'll be ready to create custom notifications that trigger when users enter or leave the boundaries
. Others can
be configured
when a mobile user dwells in a geofence area for a set amount of time.
This is your opportunity to include special offers from nearby establishments
. Find a geofencing solution with the right integration partners to make this easy.
Finally, all the new functionality needs to
be integrated
with your app. That means doing some real-world testing to make sure it all works
smoothly
.
After that, it's all about promoting the new features to your user base! 
Accuracy is Essential
Location accuracy in iOS and Android is
only reliable within 200 yards, so it's almost impossible to create these experiences using a smartphone's built-in capabilities.
Bluedot's geofencing tech is

20x more accurate.

 
We're also the only geofencing tech company with Geoline™ technology, which allows you to make razor-thin thresholds that detect the instant a user walks through a door or leaves a building
.
Set up a demo with our team to talk more about how to build geofencing into your travel and tourism app.