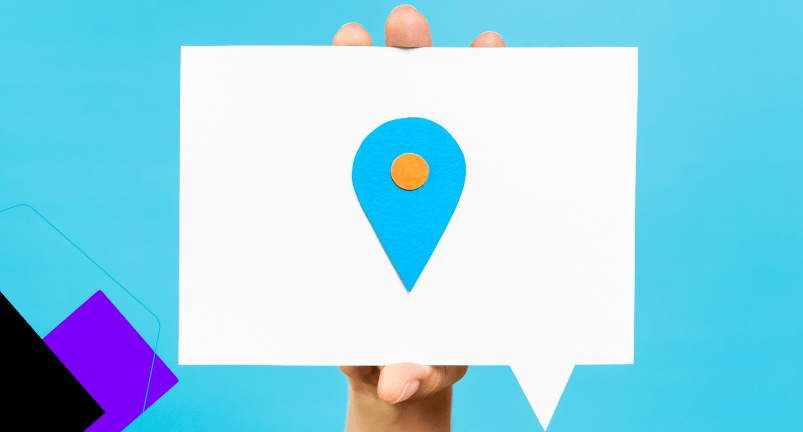 Is Geofencing Marketing Effective?
Adding geofencing to your app can improve brand loyalty, in-store visits, and repeat business.
You're strolling past your neighborhood coffee shop one morning when a message pops up on your phone. Your favorite seasonal drink is now available! A coupon for 20% off is waiting just for you.
This is an example of geofencing marketing, also known as proximity marketing or location based marketing. It can work extremely well — as indicated by the growth of the geofencing market, which is projected to rise from $1.87B to nearly $9.6B by 2032. But is geofencing marketing actually effective? We'll cover the most important use-cases, benefits, and data points that help answer that question.
What is Geofencing Marketing vs Geo-targeted Advertising?
Before going any farther, it's important to clarify what geofencing marketing is. They might seem similar, but geofencing marketing isn't the same as geolocation advertising. Here's a quick summary of each:
Geolocation (or geo-targeted) advertising: serving targeted ads to a potential customer based on a smartphone user's location (typically using GPS signals, IP address, or cell tower signals).
Geofencing marketing: creating virtual boundaries around stores or other points of interest, and then embedding location technology to enable sending push notifications, in-app messages, or SMS based on a user's proximity.
One of the best examples of geofencing marketing is from a well-known coffee chain: Starbucks has used geofencing to send personalized app messages, offering users their favorite drinks when they're near a store.
Sephora has also used geofencing to increase foot traffic. Sephora app users who are within range of a store might see a notification offering a free makeover. Since most consumers (88%) have at least one shopping app on their phones, it makes sense to use location to enhance the user experience. 
A study by Upland Software found that 42% of mobile device users spend more time on an app when it knows their location and uses it for content or push messages. Spending more time with the app isn't the only benefit, either. According to the same study, 36% of shoppers said a location-based push notification influenced their in-store purchase.
How Does Geofencing Marketing Work? 
There are two basic steps to get started. First, create a virtual boundary around a physical location or locations. Then configure the special offers or messages that get triggered whenever a mobile app user enters the geofenced area.
Here are the most common uses:
Loyalty programs
Personalized marketing messaging
Behavioral targeting
Weather-based offers
Increasing foot traffic
Geo-conquesting (creating geofences around competitor locations)
Delivering timely surveys
If you're looking for more inspiration, check out the amazing examples of geofencing marketing CleverTap has gathered on their blog.
Keep in mind that some people don't like sharing their location. It's important to make this sort of program opt-in so everyone is comfortable. At the same time, the vast majority of users enjoy personalization. According to Accenture, 83% of consumers are willing to share their data to create a more personalized experience.
Does Geofence Marketing Really Get Results?
Different strategies will see different results. For example, using location to make a personalized experience can improve brand relationships. According to Adobe's 2022 Trust Report, 72% of consumers say relevant content — delivered at the right time and place — boosts their trust.

That number is even higher among Millennials and Gen Z. 
Personalization
Advertising is everywhere, and people often just tune it out. But adding a personal touch changes that dynamic. One study found that 90% of consumers find marketing personalization very or somewhat appealing. The same study showed that 80% are more likely to buy from a brand that offers a personalized experience. Geofencing lets you create that type of customer experience.
Understanding a customer's preferences, and matching that to their specific location, is the perfect way for marketers to share engaging messages. Alternatively, brands can filter out messages based on physical location to keep them relevant — if Jayden is out of town, sending a reminder to visit his local coffee shop would be a bad personalization experience. Location makes it easy to avoid mistakes like that.
Gathering first-party data
A geofencing campaign can provide rich, first-party data that no other source can match. It shows how often mobile users visit their favorite locations, which direction they come from, and how long they stay. It's easy to pair that data with purchasing habits to create a rich customer profile. As eMarketer learned, 65% of North American marketers agree that mapping the offline customer journey provides actionable insights — including customer behavior, intent, and brand affinity.
In other words, location data is essential for a good mobile marketing strategy!
Some companies buy target customers' data from third-party sources. However, that often makes people uncomfortable. As one 2021 study shows, 70% of consumers like personalization, as long as brands are using first-party data rather than buying it. 
Boosting in-store traffic
While foot traffic has improved post-pandemic, brick-and-mortar stores still have to compete against e-commerce. What are the best ways to encourage in-store visits? Raydiant found some answers in the 2022 State of Consumer Behavior study, which revealed the top 3 things customers want stores to offer:
Fun experiences
Exclusive products
Exclusive discounts
With geofencing capabilities, you can do all of these things. It's easy to create a geofenced area and offer special discounts for passersby. If each store has unique items (coffee mugs, stickers), use location to help visitors collect them all. Stores can also use location to create fun, gamified experiences that bring in return customers.
Convenience stores use geofencing around the fuel pump area, offering spin-to-win games or buy-one-get-one deals to encourage drivers to enter the store.
Automating loyalty programs
Digital marketers love using geofencing to automate customer loyalty programs. When a visitor crosses a threshold, the app can send a personal greeting. It can also tally up reward point totals: "Welcome Olivia, you just earned 10 points and are only 20 points away from your next reward." 
On top of that, brands can use location to remind visitors to redeem their rewards: "You have enough points for a free item, Sam, would you like to add it to your order?"
Common Concerns 
Of course, it's essential to get a smartphone user's approval before tracking location. Businesses should protect themselves and their consumers by adhering to GDPR and CCPA guidelines.
Brands should also make sure to send relevant messages. As Adobe found, while good personalization builds brand trust, it's a two-sided coin: 72% of consumers say that poor personalization decreases their trust in brands.
• • • • • • • • • • •
Book a free demo today and see how Bluedot can help your brand build a geofencing marketing strategy.