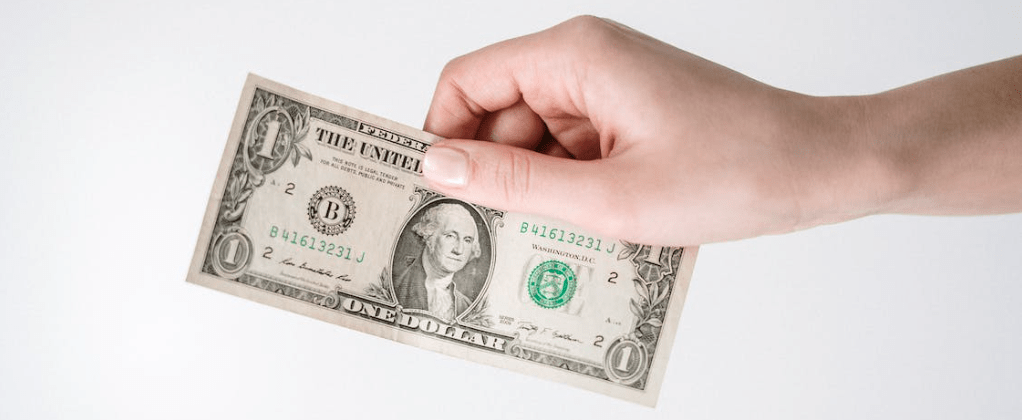 Has Tipping Reached a Boiling Point?
What the numbers say about American shoppers and diners who feel increasing pressure.
Some consumers think tipping culture is over the top. It's not just restaurants, coffee shops and hair salons requesting a tip these days. Gratuities are being added in unexpected places:
Tips are requested at automatic car washes, for Botox treatments, even for smoothie-making robots.
Recent articles have brought attention to "tip creep," the tendency for new types of stores to angle for a tip. Another complaint is "tipflation," the trend of requesting an 18%, 20% or even 30% service charge by default.
With inflation still uncomfortably high, these trends are testing the patience of many shoppers. We surveyed 1,635 American consumers in January 2022 about their attitudes and behaviors toward tipping in The State of What Feeds Us Vol. 6. Here are a few insights based on their responses.
Why Have Tip Requests Increased? 
In recent years, digital payment terminals have gained popularity. Many of those payment devices now prompt customers to tip at stores where they normally wouldn't consider it. Sometimes it's hard to know how much to tip, or when it's appropriate.
The tension mounts when a cashier turns a payment device around, or hands a tablet to a customer with a default tip higher than expected. Does anyone want to visibly decrease the tip amount in full view of bystanders? 
In fact, 37% of customers feel pressured to tip in those circumstances, according to The State of What Feeds Us report. One third of customers feel uncomfortable when asked to leave a gratuity on a tablet. 
Unlike tip jars that shoppers can easily ignore if they don't have spare change, experts say the digital requests can produce social pressure and are more difficult to bypass. And your generosity, or lack thereof, can be laid bare for anyone close enough to glance at the screen — including the workers themselves.
At the same time, 63% of diners say they feel no pressure to add a gratuity when ordering at the counter. Of those people, 70% end up tipping for the service anyway. 
Tipping for Mobile and Web Orders
Our data show that 30% of respondents tip more when ordering in person. However, food delivery and pick-up has become commonplace. How has this affected tipping?
For some, it's simple: One third of diners say they tip exactly the same whether ordering via app, web or in person, according to the SWFU 6 report. 
On the flip side, 11% of diners actually tip more when placing a mobile or web order. 
But everyone else tips significantly lower. In fact, 46% of diners say they don't tip at all for mobile and web orders. Some of them might simply be forgetful, but often it's deliberate: 27% of those non-tippers think about tipping, but ultimately decide against it. Ouch.
Tipping via Third-Party Apps
While food delivery companies suggest tipping 20% on the total cost of a meal, our data show that consumers see things differently. Overall, 80% of diners tip when using third-party apps like Grubhub or Doordash.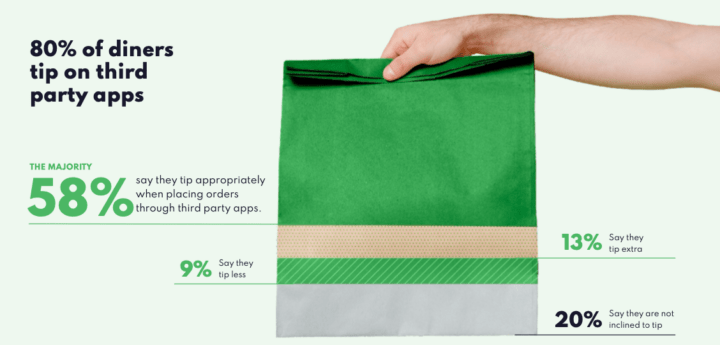 However, only 58% say they tip appropriately. Nine percent say they tip less and 20% say they don't add any gratuity at all when using third-party apps. 
On the bright side, 13% of diners say they tip more when using delivery apps. 
How are Tipping Habits Changing?
During the pandemic, tipping surged — a trend often attributed to sympathetic feelings toward essential restaurant workers. By early 2022, 74% of diners reported leaving a tip at restaurants, with 26% declining to tip, according to SWFU 6 data. 
That boost in tipping, however, cratered in summer 2022. Many connected the drop-off to rising inflation.
During the holiday season, tipping climbed back up: According to Square, tipping increased by 25.3% at full-service restaurants during Q3 2022, while tips at QSRs rose 16.7% in the same timeframe.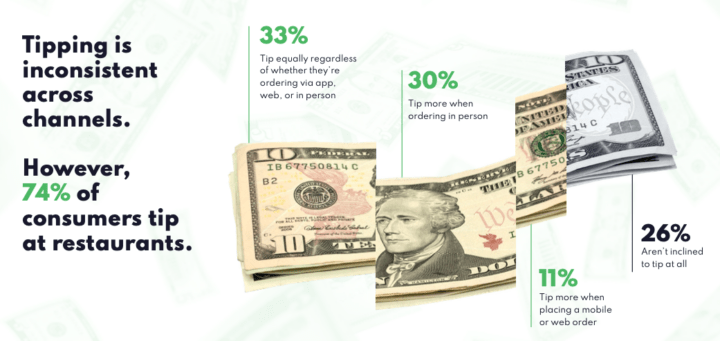 Tipping is unlikely to go away any time soon, despite the recent frustrations. However, restaurants use these insights to make informed decisions about how they ask for tips and how much they request.
• • • • • • • • • • •
Connect with our team for a free demo to see how Bluedot makes mobile ordering and curbside pick-up a breeze. Our geofencing tech also allows restaurants to deliver surveys to consumers the moment they leave the restaurant to gather timely feedback on dining experience, service quality, tip expectations or anything else.