Restaurants Lean on Marketing While Facing Competition from Coffee Chains and C-stores
QSRs are grappling with fast-emerging competition from coffee chains luring customers away with faster drive-thrus and convenience stores offering an enticing alternative to the usual fast food menu.
Despite a much hoped for return to "normalcy" for the restaurant industry, economic headwinds have created yet another wave of pressure for restaurant brands as they're forced to do more with less. And it's not just the economic climate — QSRs are grappling with fast-emerging competition from coffee chains luring customers away with faster drive-thrus and convenience stores offering an enticing alternative to the usual fast food menu.
Restaurant brands that invested in on- and off-premise technology over the past two years are certainly better positioned to compete. Mobile strategies and automation have boosted the customer experience with more speed and convenience which remains key to customer loyalty.
In the year ahead, we'll see the next evolution of the restaurant industry as smaller footprint stores emerge with a focus on off-premise strategies including mobile orders and rapid order pickup. Marketing teams will become more operationally focused by utilizing mobile apps and its data to create and deliver bespoke customer experiences and personalized campaigns.
Here's more of what we expect in the year ahead:
Digital-first marketing strategies will drive hyper-personalization
Marketing will play a much bigger role as brands look to lure more customers into stores and create upsell opportunities with more personalized and customized offers.
Based on a micro-level understanding of each customer, we'll see brands experiment with personalized menu offerings, deals and dynamic pricing. For example, brands will adopt more digital menu boards that will display personalized offers and menu items based on customer loyalty data.
QSRs compete with more than just direct rivals
Coffee chains with shorter drive-thru lines, convenience stores with strong foodservice initiatives and smaller footprint stores are taking aim at fast food by offering a faster, easier and more engaging buying experience.
Fast food customers are also looking for more environmentally friendly restaurants that offer clean ingredients, a healthier menu and biodegradable packaging. In order to compete, some smaller restaurants may need to be more mission-driven and provide healthier menu options.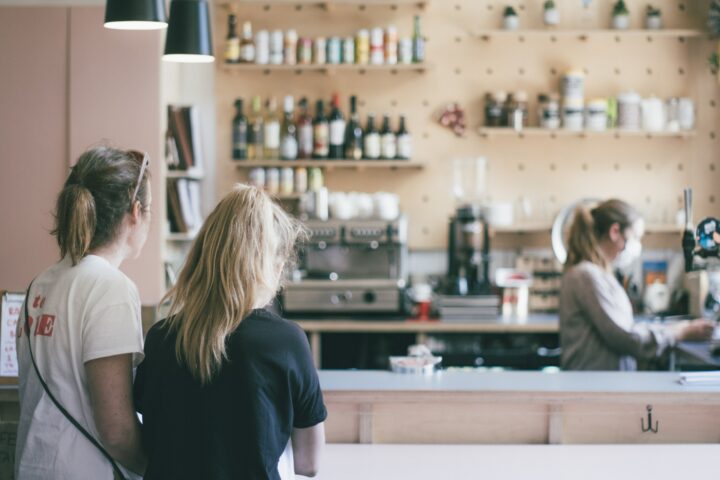 Off-premise strategies and AI voice ordering become the focal point of emerging smaller footprint stores
As mobile ordering becomes more popular, some brands are snapping up real estate for new stores focused on mobile ordering and pickup options such as curbside and the drive-thru. With fewer consumers dining inside restaurants, there will be an emergence of distributed, smaller footprint stores built around order pickup including dedicated mobile-only drive-thru lanes, curbside pickup spots, or off-premise mobile only stores.
These restaurants will also leverage AI voice ordering at drive-thrus, the ability to reconfirm order details, and more. AI voice ordering will be used to minimize staff shortages such that staff can concentrate on more complex or back of the kitchen tasks.
Concept stores focused on tech and drive-thrus emerge
Brands will roll out concept stores to gauge consumer interest, demand, and preferences for new menu items, genres and even customer experiences. Some brands may experiment with multi-brand restaurants, cross-brand menu items or a fresh new concept restaurant that offers high-end burritos or a farm-to-table menu.
Multi-brand conglomerates will leverage customer data platforms (CDP) and tech solutions for consolidated omni-channel marketing initiatives across restaurants
In an effort to drive traffic across multiple restaurants under the same brand, brands will leverage CDP and technology solutions for consolidated loyalty programs, cross-channel marketing initiatives and other promotional campaigns.
Some brands may allow consumers to use consolidated rewards points or deals at multiple restaurants from the same brand through mobile apps. Consumer willingness of shared data across multiple restaurants will play a role in how brands are able to leverage this initiative.
The online experience will become an extension of the in-store experience
Brands recognize that the customer experience doesn't stop once a mobile order is placed or when a customer leaves the store. Highly valuable contextual data that captures customer behavior, preferences, demography, location, and more both on- and off-premise will enable marketing to make more actionable decisions and deliver a consistent and seamless customer experience whether on a mobile device, in-store, or a combination of both.
This is not just a seamless handoff between online and offline, but a full engagement integration at the technical level, ultimately delivering bespoke customer experiences.
A version of this article first appeared in QSR Web. 
Emil Davityan is the co-founder and CEO of Bluedot, a customer arrival platform that empowers businesses to provide real-time interactions and pickup solutions. Prior to co-founding Bluedot, Emil was a cyber policy adviser to successive Australian Prime Ministers, leading complex projects with major technology companies and international governments.