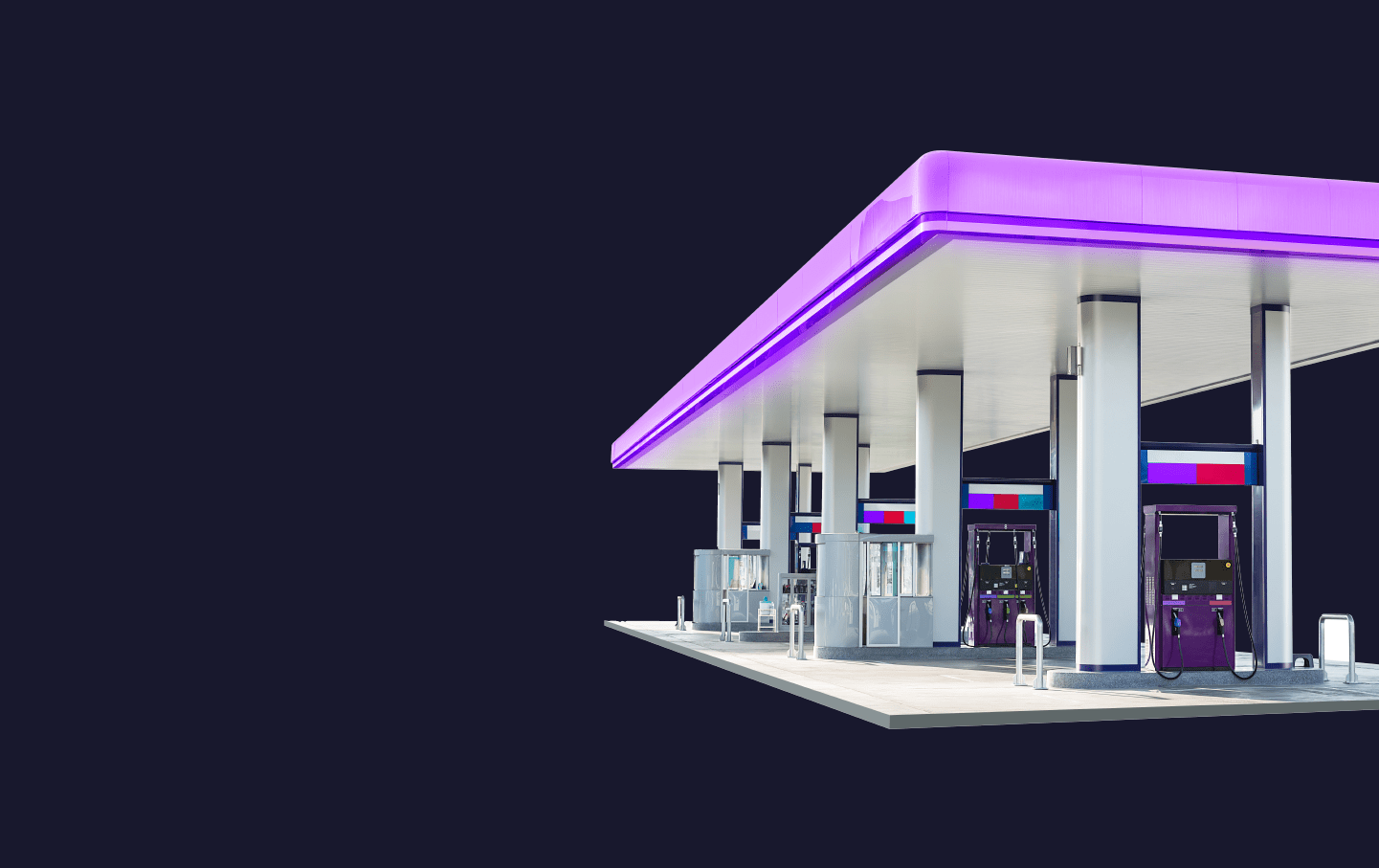 Using Geofencing to Improve Convenience Store Loyalty Programs
Once upon a time, loyalty programs were 10-item punch-cards, or plastic squares attached to a keychain.
Now customer loyalty programs are far more sophisticated. The top convenience stores offer their own smartphone apps, which make it simple for customers to earn loyalty points, pay for fuel, and even order food for pick up. 
Why have gas and convenience loyalty programs become so popular?
According to the Summer 2022 Convenience Store Trends (CST) report, the three most important factors for choosing a gas station are price, location, followed by — you guessed it — loyalty program.
Without a good customer loyalty program, it's hard for a c-store to remain competitive.
However, many of those loyalty apps fail to tap into the potential of geofencing. This is a big oversight, because smartphones open up more opportunities for consumer engagement than paper punch-cards ever could.
What Are the Benefits of Convenience Store Loyalty Programs? 
Let's review the core reasons for corner stores to launch these programs in the first place. From the store's perspective, loyalty programs help strengthen connections with customers. A good program uses special deals and personalized offers to boost customer retention at the same time. 
On top of that, loyalty programs help increase revenue and grow the customer base by offering valuable memberships. Finally, these programs can reveal insights into customer preferences and behaviors.  
What are the benefits for users? 
Unsurprisingly, gas discounts are the #1 reason people sign up for convenience store apps. Loyalty program members also join for special offers, points or brand dollars, and the convenience of being able to pay for fuel or food via mobile app.
44%
Understanding how these programs benefit both brands and consumers, here are three ways c-stores can use geofencing to improve their loyalty programs and apps. 
1. Offers to Drive Foot Traffic
Some convenience store shoppers arrive at the pump with no intention of going inside. They're just filling up.
In fact, gas is by far the top c-store purchase, according to the CST report mentioned above, followed by soft drinks at a distant second:
Gas (80%)

Soft drinks (57%)

Snacks

Coffee

Prepared food
Our own research shows that only 7 in 10 customers walk through the c-store doors when pumping gas!
So, how can the other three be encouraged to move from the pump to the door, where they're likely to purchase items with better sales margins? 
Some popular methods include outdoor signage and advertising screens at the pump.
However, research shows that drivers think the screens are more irritating than interesting.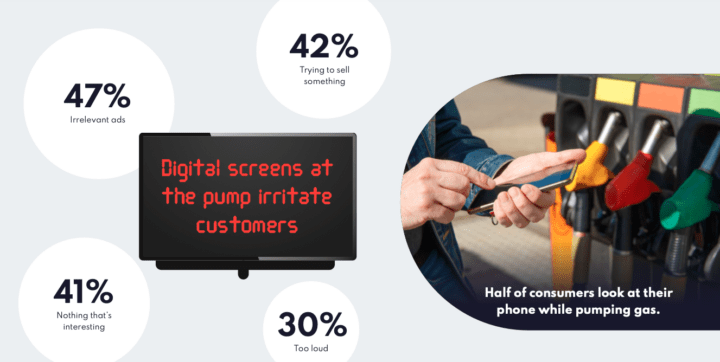 If fuel pump screens don't work, what are the other methods for convincing shoppers to go from pump to register? It turns out mobile apps are ideal! Half of consumers spend time on their phones at the pump.
This is an opportunity for loyalty apps to engage them with push notifications or SMS.
C-stores can set geofences around the forecourt area to automatically detect when a loyalty app user arrives but hasn't entered the store yet. That's the perfect moment to encourage foot traffic with 2-for-1 offers, discounts, or spin-the-wheel games.
Geofencing also enables marketing teams deliver location-based messages, or remind visitors of regional offers.
It also helps app users make the most of their reward points.
2. Prompts to Redeem Rewards
People join loyalty apps to get rewarded. But they often forget to redeem their fuel rewards or other offers. This can be disastrous for customer retention, because members often go inactive if they see their points expire. 
To make things worse, C store staff usually neglect to mention their gas rewards program at all.
28%
Why not use location-based messaging instead? 
By setting geofences around your stores, you can simply trigger automatic reminders when eligible users walk through the door. "Don't forget to redeem your loyalty points for a free item!" It's an excellent way to use contextual messaging to engage and delight customers at the perfect moment.
3.Personalized, Privacy-centric Experiences
Location data helps c-store loyalty programs reward repeat visitors, or give them new ways to move up through reward tiers. 
But it's also important to reassure users that their privacy is top-of-mind, and that their data will be used to deliver truly personalized experiences.
You can get customer feedback in the moment using geolocation. Imagine a visitor leaves a shop after redeeming a free drink, and immediately a short survey is pushed via the app or SMS. A major airline has tried this exact tactic, using geofencing to offer mobile surveys when passengers disembark. 
That method led to a huge boost in response rate from travelers. 
Controversially, you can use geofencing to send messages when your customers arrive at a competing location. This is a tactic to approach with care, but it can be effective. Burger King famously used this approach to offer hungry customers a $1 burger — but only when the visitor was near a McDonald's location. 
Put Those Insights to Use 
Loyalty apps are not always at the top of the priority list for convenience stores. There are other concerns, such as labor shortages, high fuel prices and inflation.
After all, if the price difference between two gas stations is more than 5 cents per gallon, nearly half of consumers forgo the loyalty points. Why focus on offering a great loyalty program experience?
Well, as our research shows, a quarter of consumers actually prefer loyalty points regardless of fuel costs.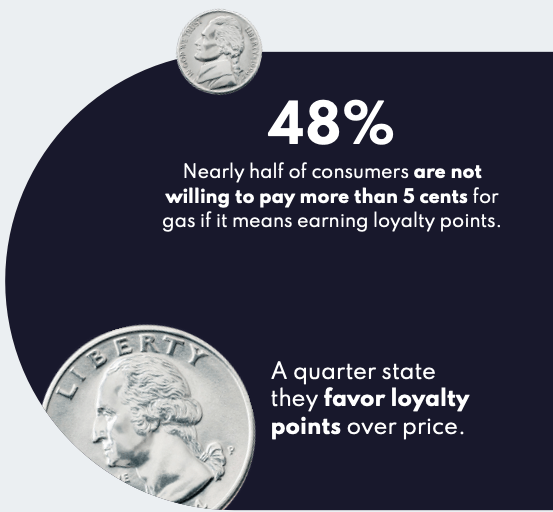 Cstores have an incredible opportunity to use smartphone apps to gain insights into customer preferences.
It's a good thing the days of paper punch-cards are behind us. Geofencing allows you to enrich customer profiles with first-party data about their behaviors that most of your competition hasn't started looking at yet.
Ready to see how geofencing can improve your convenience store loyalty program? Get started with a personal demo.