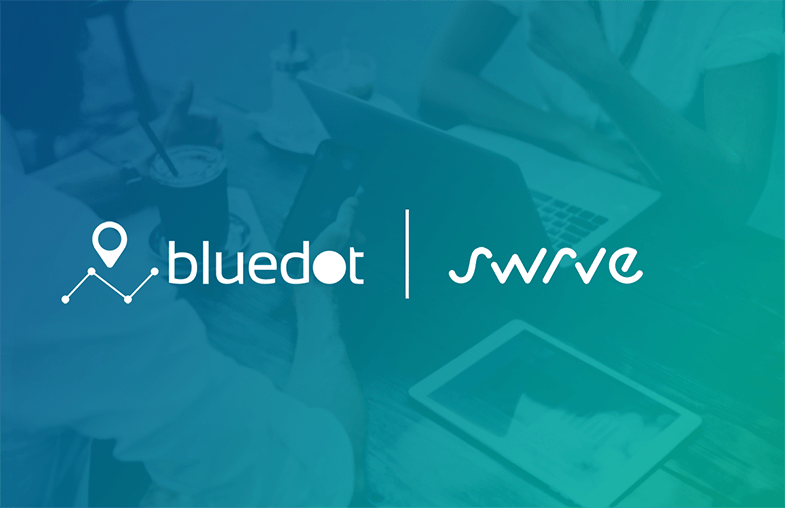 Swrve Partners with Bluedot to Power High Accuracy Location-Based Engagement and Analytics
San Francisco, May 23, 2018— Swrve, a leading real-time platform for multi-channel customer engagement, has entered into a business partnership with Bluedot Innovation, a location-as-a-service technology company that provides high accuracy location services for complex and high volume enterprise deployments. The partnership will enable customers to optimize their marketing campaigns with location-based targeting, triggering and analytics for mobile engagement and greater reach and relevance across in-app, push, SMS, e-mail, web and many other channels.
"We're delighted to enter a partnership with Bluedot, and to use its powerful location-technology to raise the bar for driving personally relevant interactions with consumers in moments of relevance."

"By using location data alongside Swrve's real-time processing of deep behavioral data from multiple channels, digital marketers can drive more engagement at scale in order to better convert, retain and monetize for growth."
Consumers today are bombarded with branded digital messages across channels - in-app, push, SMS, web, email, social - and in response have developed strong convictions about how and when they would like to receive communications. In fact, today the average consumer uses 7 devices and more than 20 channels, and spends 7 out of every 10 digital minutes on a mobile device, and 9 out of 10 of those minutes within apps. Location services provide both place and time to invite interactions in a context that customers find relevant to them. As a result, brands can drive higher conversions and response rates with location-triggered multi-channel campaigns than traditional marketing efforts.
In the words of Bluedot CEO and Co-Founder Emil Davityan,
"Our partnership with Swrve will enable contextual analytics and engagement that puts the customer at the center of the mobile experience. Leveraging a customer's location ensures relevant experiences at the right time in the buying journey and high conversion omnichannel engagement for enterprises."
Bluedot's location marketing platform delivers a solution 20 times more accurate, with low battery drain, unlimited locations and best-in-class privacy, to deliver 1:1 segmentation no matter how large your audience may be or where they are located.
Swrve has begun offering Bluedot's location services to its customers. One use case underway includes a Swrve customer sending in-app promotions to their customers as they enter a coffee chain venue.
"By combining our high accuracy location service and Swrve's best-of-breed customer engagement platform and intent engine, we're able to enable targeted and responsive interactions with customers that amplify marketing campaigns," said Davityan.
Swrve customers have always benefited from real-time behavior processing, A/B testing, and geo-location services for multi-channel marketing campaigns. With the new Bluedot partnership geo-location services that contribute to targeting, triggering and analytics will be greatly enhanced with high-fidelity location data, virtual locations that can be mapped to any commercial environment as precise as 5 meters. The use cases and industries where this hyper-targeting, location-based segmentation can be applied are numerous, here are just a few scenarios:
Deliver relevant offers to customers who arrive at or leave a geofenced location, or if they have dwelled for a certain period of time
Intercept customers at your competitors' locations with 'geo-conquesting' campaigns
Build granular customer profiles by collecting behavioral and location relevant data about customers at any location or premise, even those you don't own
Utilize contextual insights to re-target any channel - mobile, email, web, social
Turbo-charge your loyalty program by prompting customers at the exact time and place they can use their membership
Measure ROI of campaigns by comparing foot traffic across different locations
Swrve customers will now enjoy greater functionality in designing their multi-channel campaigns, and be able to activate or deactivate locations based on any internal data, such as demographic data, purchasing history, in-app behavior or external data such as the local weather. These location triggers can be set programmatically to exist only for specific customer segments or individual customers. Swrve enables companies to be relevant in millions of moments with real-time, hyper-targeted customer interactions.
Davityan explains: "Today's consumers are bombarded by messages across a host of channels. It is crucial for companies to stand out with information that resonates, at the right time, the right place on the right channel. We chose Swrve given its deep experience empowering enterprise customers with its intent engine, delivering comprehensive, real-time, behavioral insight relating to every customer or prospect, and supporting more effective communications as a result."
Both companies are excited by the potential of marrying their technologies and bringing even more value to their customers and prospects.
To learn more, visit bluedot.io.
About Swrve
Processing over 12 billion events daily, Swrve's next generation customer interaction platform helps enterprises maximize engagement and monetization by empowering marketers to deliver bespoke mobile experiences to every customer. Swrve provides a comprehensive set of tools that include audience targeting, real-time segmentation, conversations, push notifications, in-app messaging, A/B testing, predictive models, real-time data orchestration, and rich analytics across all marketing channels. Swrve partners with leading brands, agencies and technology partners -- including The Guardian, Condé Nast, Warner Brothers, Salesforce, Oracle, and Marketo -- and is installed in hundreds of apps across industries, such as retail, media, travel/hospitality, entertainment, sports, games, and banking.
About Bluedot Innovation
Bluedot Innovation offers a high accuracy and battery-friendly location service platform to enterprises such as Salesforce, News Corp and, Cox Automotive, enabling them to reach customers anywhere, drive mobile purchases, and understand customer behavior throughout their journey. Bluedot's patented location technology allows businesses to map out locations with Geoline™ tripwires or 5-meter geofences, 20x the accuracy of other location services. Through Bluedot's conditioning engine, clients target different audiences at an unlimited number of locations, without requiring additional hardware.
MEDIA CONTACTS:

Eric Knutson
eric.knutson@swrve.com
617-699-0787
Judy Chan
judy@bluedot.io