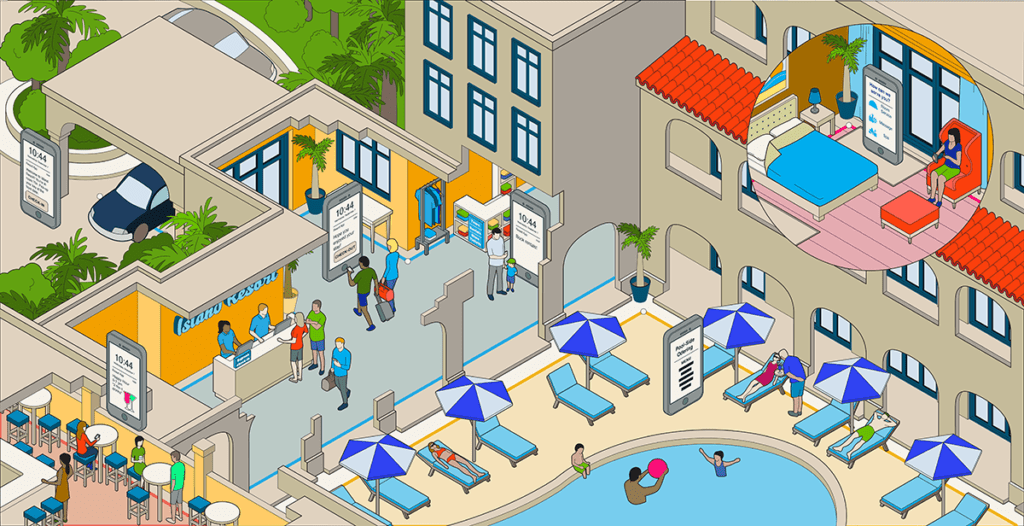 10 Geofencing Strategies to Personalize Experiences in Hospitality
With a mobile phone as the number one travel accessory, the hospitality industry is turning to location mobile technology like geofencing to create 1-to-1 personalized guest experiences.
For travelers, their data is currency that they're willing to barter in exchange for a streamlined travel experience. A survey by BTN found that 79% of business travelers found it "valuable" or "very valuable" that a mobile booking tool knows their identity, company, loyalty status and what they like.
Geofencing and location services can help hotels tailor onsite services using not just guest profiles or travel history, but also with contextual data, such as how guests spend their time on the hotel property.
Here are 10 geofencing tactics that hospitality companies can add to their personalization strategy:
1. Automated check-in and check-out
Hotels can offer guests the option to check-in on their mobile phones when they land or as they are approaching the property. By geofencing the airport or the hotel parking lot, the hotel or travel app can send a location-based push notification with a mobile deep link to the check-in page or the app can automatically pull up the check-in page. Upon checking in, guest receive their room number and instructions on where to pick up their room keys, such as the express check-in desk.
When checking out, guests can approve the summary of charges for their room via mobile and confirm check-out. Sending guests off with a departing message as they exit the property, such as "Hope you enjoyed your stay, John. Come visit us again soon," adds a personal finishing touch.
2. Reward loyalty program members
Hoteliers can also segment location-based notifications or offers based on hotel rewards or guest loyalty programs. For example, gold members can receive an offer to book discounted tickets to tonight's show. Platinum members can be rewarded with a later check-out time or be shown booking specials for future dates.
3. Monitor social media posts sent from property
Hospitality chains are also geofencing their properties as a way to listen in to customers' conversions during their stay. Marriott has a digital team that monitors social media posts from Marriott properties and looks for opportunities to increase brand presence and awareness and delight guests. A couple tweeting about their engagement may receive a room upgrade or a guest posting about a birthday celebration would get a dessert delivered to her table.
Geofencing or setting up a virtual perimeter around their property allows for the team to capture conversions without a hashtag.
This strategy has helped boost Marriott's social presence. According to Mobile Marketer, 82% follow the brand back, post about their travel experience again, or specifically mention Marriott.
4. Promote restaurant services
Why not drive foot traffic to the onsite restaurant with perfectly timed promos? Offers such as "Happy Hour 5-7pm, 2-for-1 drinks" can be sent to guests who are still at the property during that time. If there is a convention taking place on site, hoteliers can set the geofence to only be active during hours that fit with the break times.
5. Room service
When a guest arrives at their room, prompt them with a message like "How can we serve you?" They can order room service, book a massage or schedule a spa appointment all from their mobile phones.
Geofencing can also help you anticipate your guests' needs. By setting a geofence to be active only during dinner time, a hotel can send a push notification with today's specials to guests who are in their rooms.
6. Pool-side ordering
Guests lounging by the pool can automatically receive a pool-side menu upon arrival. They can order a cocktail and pay directly on their phone or choose to bill their room. Poolside waiters will be able to see their loyalty status and greet them by name.
7. Manage hospitality workforce
It's important to staff areas of the property where guests will need personalized services. By geofencing each section of a resort to measure foot traffic, management will know where and when to schedule employees. A larger geofence can also outline the perimeter of the property to automate timesheet management.
8. Measure how guests spend their time at property
Which areas do guests spend the most time? Does dwell time affect average spend per guest? These questions can be easily answered by setting precise geofences around each area of your property and analyzing dwell times. Bluedot provides the ability to create polygonal geofences which can encompass areas of different shapes and sizes. Hoteliers can use these insights to develop a more intelligent environment to service their guests.
9. Tourist attractions
The beauty of geofencing is that it can extend beyond any resort's physical location. By setting geofences around popular tourist attractions or key points of interest, a hotel or travel app can offer mobile coupons and track offline attribution. Apps can set the geofences to trigger recommendations based on each individual's search history.
10. Prompt reviews
Encourage guests to leave a review of their experience upon checking out of the hotel. Simply enable the "check-out" feature on the Bluedot zone to open up the review page for your property on any major review site.
With the ease of integration of Bluedot's location services, hoteliers can incorporate geofencing to bolster their mobile and personalization strategy. As the hospitality industry continues to adopt location services, the hotel environment will become smarter and create dynamic experiences tailored for each guest.
To learn more how Bluedot can improve experiences for the hospitality industry, sign up for a demo.