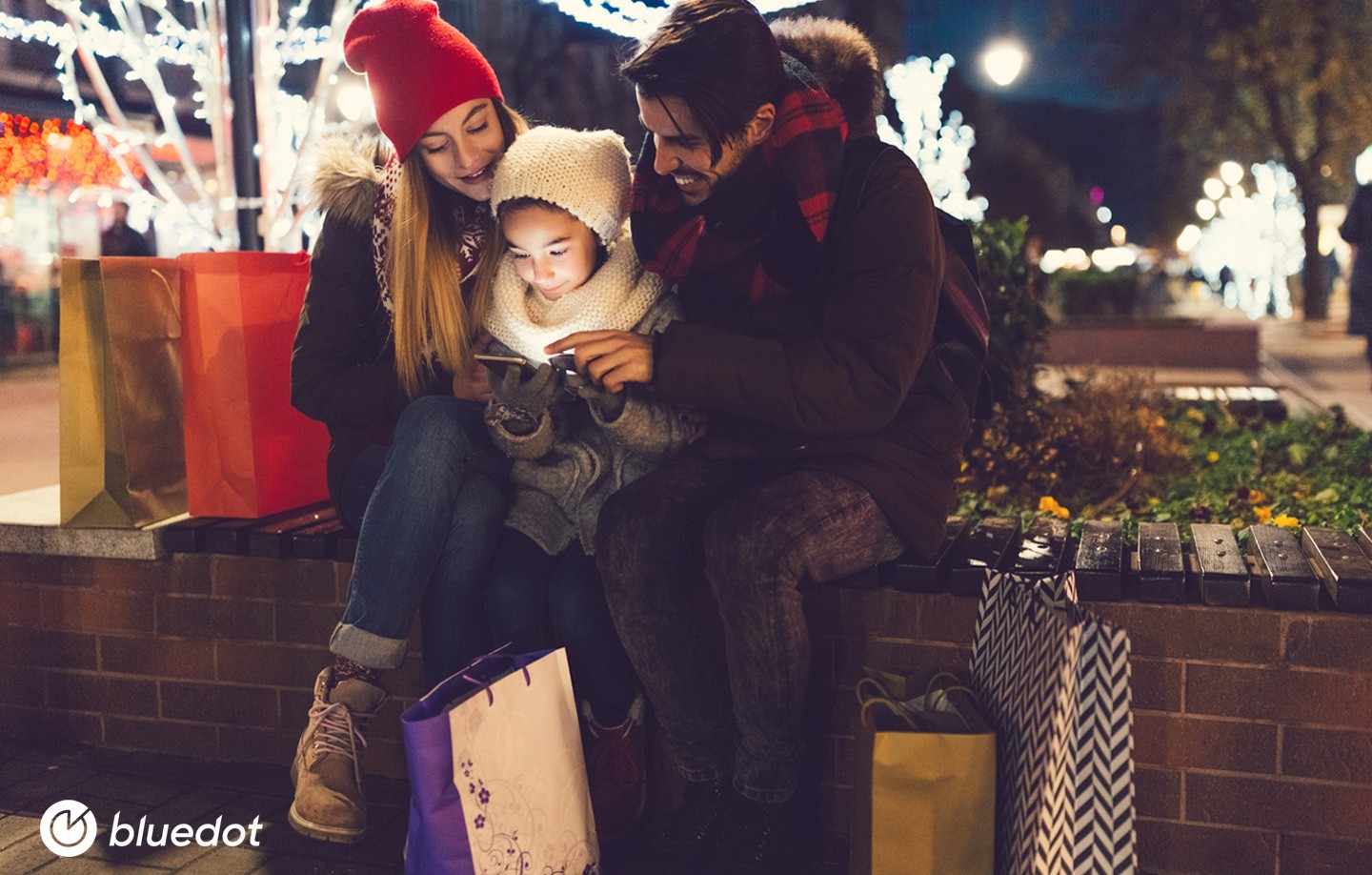 Consumers Reveal Significant Concerns for 2021 Retail Holiday Shopping
As retailers prep for the upcoming 2021 holiday shopping season, things are going to get quite interesting. If last year was unique due to the pandemic, this year bodes for an even more challenging holiday season. Along with the adoption of new consumer behaviors from last year, such as mobile shopping becoming the dominant channel, social commerce trending upwards, and contactless curbside pickup gathering steam, this holiday brings all those same elements, but more.
Our latest study - Holiday Habits 2021 - surveyed over 1,000 American consumers revealed significant concerns over merchandise and labor shortages, empty shelves, inflation, increased wait times, and more.
On a positive note, consumers indicate favorable use of mobile shopping apps, reliance on social commerce recommendations, and an earlier start to the shopping season to offset issues brick and mortar stores will undoubtedly face. 
Supply Chain and Labor
The study reports a vast majority (86%) of consumers are concerned with supply chain issues, lack of merchandise, and labor shortages. In fact, 8 in 10 respondents expect merchandise shortages to impact their holiday shopping.
Top Concerns Include:
Inventory shortages / limited supply (60%)

Pricing increases (59%)

Empty shelves (43%)

Long lines and wait times (40%)
In response, consumers plan to shop more on the web (45%) and mobile apps (31%). Additionally, consumers expect to shop for different or alternative items (28%), shop in-stores earlier (24%), or purchase more experiences or gift cards (20%).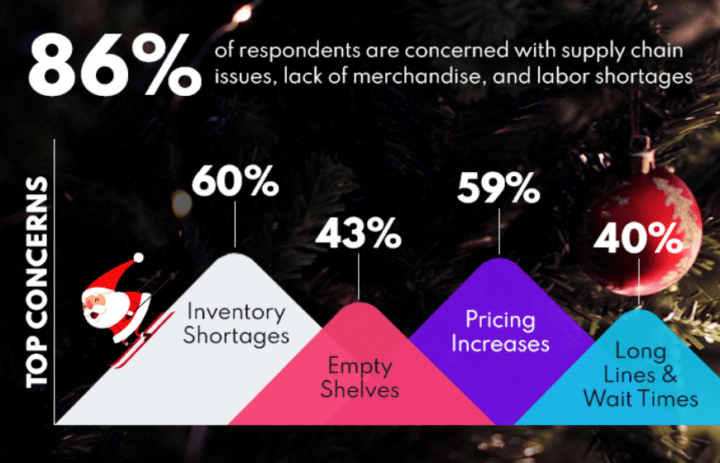 Mobile and App Usage
A bright spot, digital will play a strong role as 9 in 10 respondents plan to use mobile apps for holiday shopping this year, remaining consistent with 2020 levels.
Top Reasons Consumers Plan to Use Mobile Apps:
Fast and easy to use (57%)

Can't find items in store (38%)

Check in-store inventory (27%)

Earn and redeem loyalty points (25%)
Additionally, nearly a third (32%) of respondents plan to purchase holiday gifts via social media platforms such as Instagram, TikTok, Snapchat, and Facebook. More than any other generation, 42% of Gen Z consumers are likely to purchase holiday gifts through social media platforms.
Curbside Pickup
While BOPIS (Buy Online Pick-Up In-Store) is widespread with 79% of consumers planning to utilize this during the holidays, the experience can still be improved.
Consumers Note the Following Issues:
Too many people in line (46%)

Excessive wait times ranked at the top (42%)

Inaccurate order (24%) 

Flagging down staff (23%)

Inability to find their order (14%)
Similarly, curbside pickup remains a popular choice for consumers this holiday with two-thirds of respondents planning to utilize the service.
However, 75% of Respondents have Experienced BOPIS Dissatisfaction with:
Excessive wait times (42%)

Hassle having to text, call or email upon arrival (30%)

Inaccurate order (26%)

Lack of acknowledgment upon arrival (30%)

Poor or lack of instructions on where to park (22%)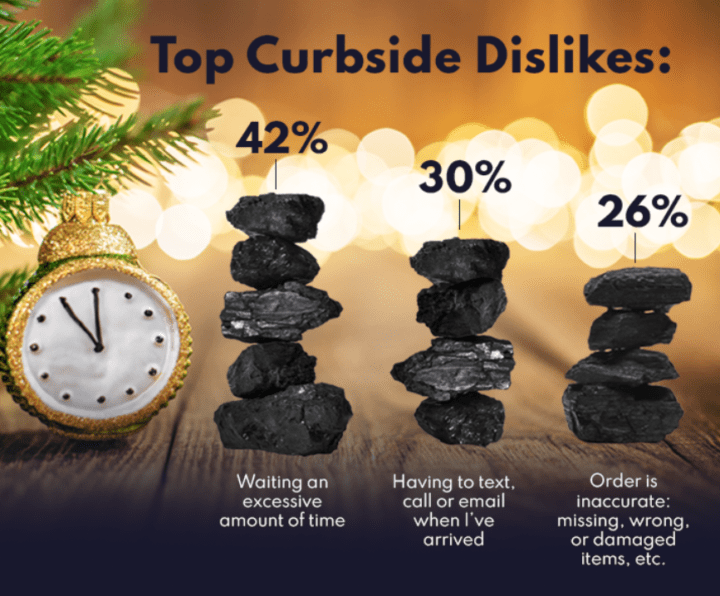 Challenges abound for retail this season. The fight for share of wallet will not happen at brick and mortar exclusively but over digital. And, how digital is utilized in an omni-channel environment across apps, social, BOPIS, and curbside pickup will leave a lasting impression with consumers this year. Buckle up Saint Nick, strong headwinds are coming your way.  
Get more insights about consumer behaviors in our 2021 Holiday Habits Infographic now.
To learn more about Bluedot's curbside pickup solution, click here.