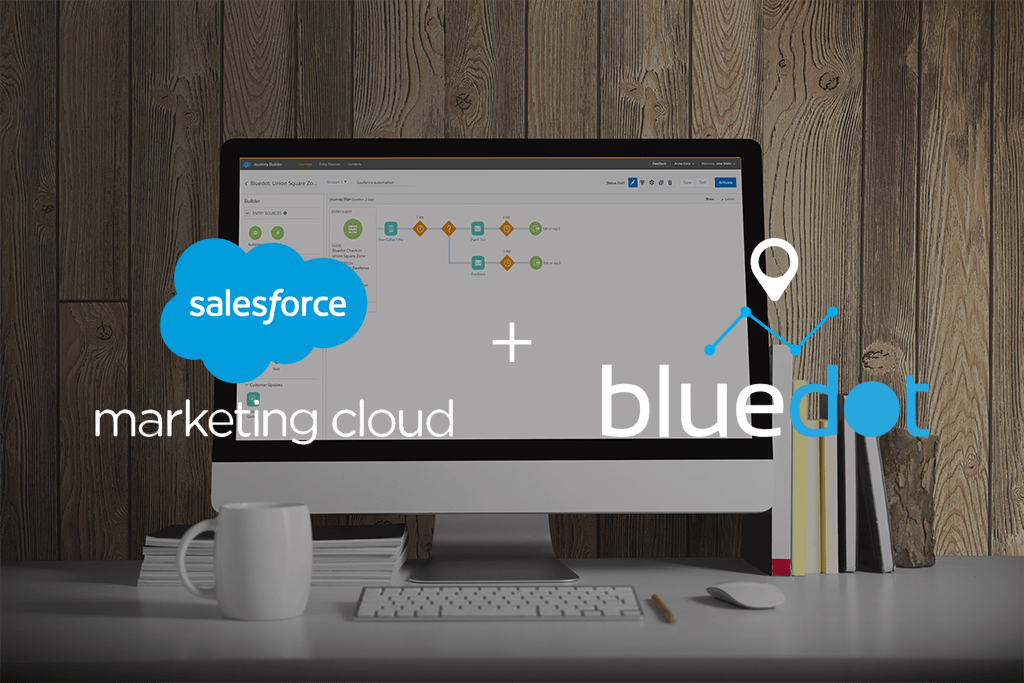 Bluedot Launches on Salesforce Marketing Cloud to Power Personalized Journeys
We're excited to announce that Bluedot Innovation's precise location services are now available on the Salesforce Marketing Cloud. Customers can now use Bluedot Location Marketing app from the Salesforce AppExchange to power personalized customer journeys at scale using our patented geofencing and Geoline™ technology.
This new offering will enable Salesforce Marketing Cloud customers to turbocharge their customer engagement, optimize their conversions and boost sales. By combining the power of Bluedot's unparalleled accuracy and battery optimization with the adaptability of the Salesforce Marketing Cloud's Journey Builder, companies will amplify the value of their Marketing Cloud experience.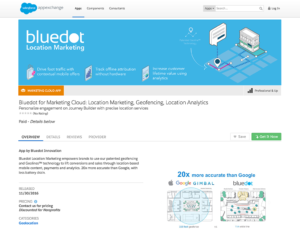 Bluedot became a Salesforce ISV partner in August of 2016, and the launching of the Bluedot product in the AppExchange marks an important milestone in Bluedot's partnership with Salesforce. Bluedot Location Marketing comes to the AppExchange as the first and only application that provides unprecedented accuracy and segmentation in location-based marketing, empowering brands to truly deliver personalization at scale. In fact, it was named one of the "Must-See" apps at Dreamforce earlier this year.
With location based ad dollars to reach $20 billion by the end of 2017, the launch of Bluedot Location Marketing will enable brands to optimize their location-based marketing campaigns. The seamless integration with Journey Builder allows companies using Salesforce Marketing Cloud to harness a customer's real time location to optimize touchpoints along their journey with contextual offers, pre-ordering, mobile payments, and loyalty programs, among other forms of engagement. Bluedot's technology is capable of triggering mobile actions on the customer's smartphone at an exact location–making every place the right place, and every moment, an opportunity to monetize.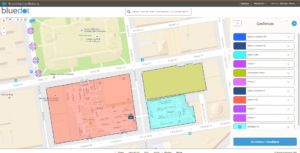 Bluedot Location Marketing is a game changer in the proximity marketing space, allowing customers to couple the power of Journey Builder with Bluedot's patented location technology and a smart conditioning engine.
Teams on the Marketing Cloud can map out locations with razor-thin virtual tripwires available exclusively through Bluedot or 5-meter geofences that deliver 20 times the accuracy of location services from Google or Apple, with a fraction of the battery drain. With the modern consumer bombarded with ads vying for their attention, the importance of delivering content that is not only personalized to the customer but contextually relevant can't be underestimated. Hyper-accuracy is the difference between engaging a customer in an area spanning 8-12 city blocks and engaging them at the moment they enter the door. With Bluedot, that's exactly what you can do, all while saving battery life of the user's device.
Bluedot Location Marketing can be used across virtually every industry, with wide adoption in Retail, Hospitality, Events, Real Estate, Financial Services. If you're a retailer, you can drive sales by targeting customers with personalized offers based on their location and past behavior. For hospitality, elevate guest experiences with an automated check-in and check-out process, or alert them to book a ticket to tonight's show. If you run a quick serve restaurant, eliminate lines by automating ordering, mobile payment and pickup. And for real estate, gain insight into what's happening at your properties by measuring foot traffic or other location data.
Regardless of what you're trying to accomplish, with Bluedot Location Marketing and the power of the Salesforce Marketing Cloud, personalization at scale is not only possible, it's easily deliverable.
To learn more, sign up for a free personalized demo or visit the Bluedot Location Marketing's listing on the Salesforce AppExchange.