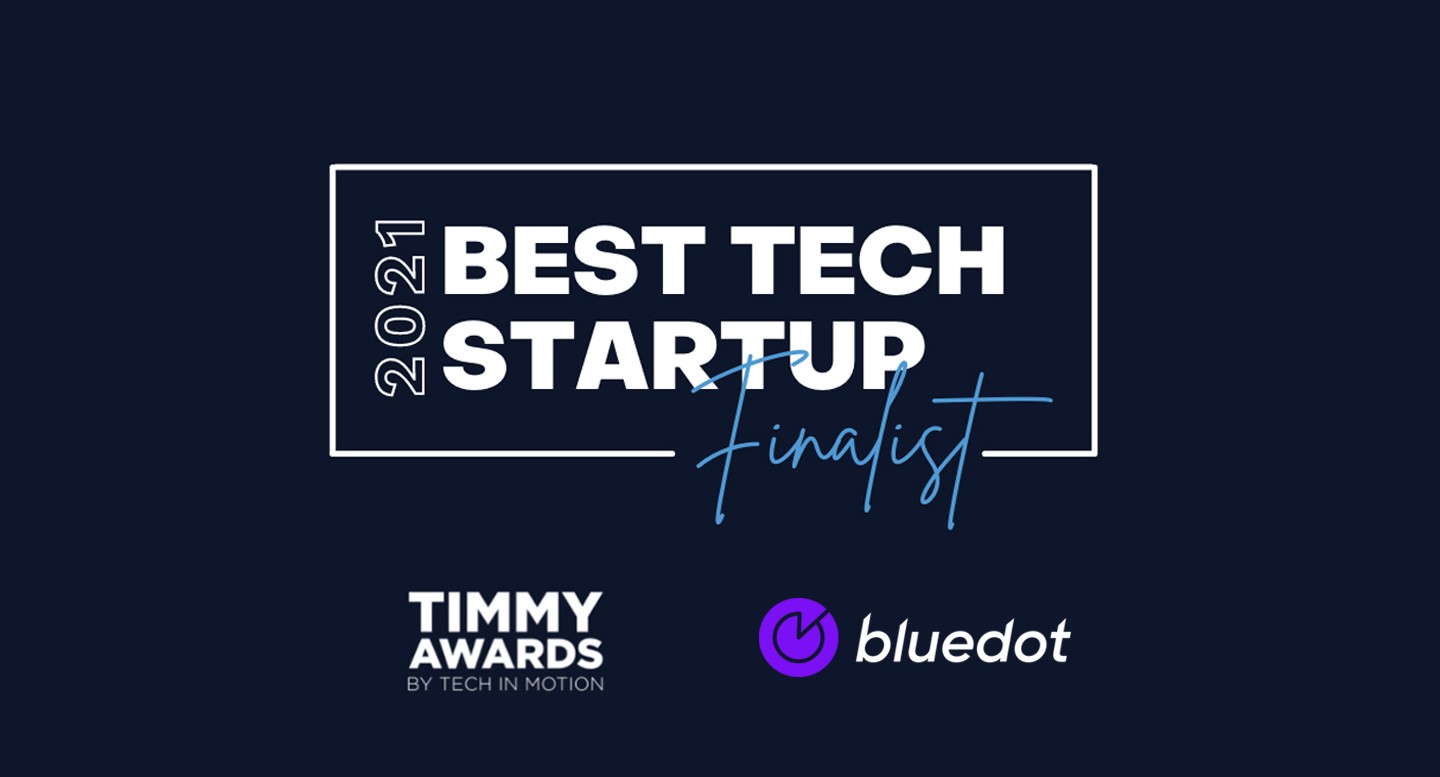 Bluedot Selected as Top Tech Startup Finalist in 2021 Timmy Awards
Bluedot is recognized for its geofence-powered customer arrival software that improves curbside, drive-thru, and loyalty experiences for retail and restaurant customers.
Bluedot is a 2021 Best Bay Area Tech Startup Finalist in the 7th Annual Timmy Awards, selected by the local tech community and Tech in Motion. The awards program is dedicated to celebrating the top tech workplaces across North America. With regional winners decided by voting here, it will be the Bay Area's tech community who decides if Bluedot will represent the Bay Area in the national round, judged by industry leaders from companies like Paypal, Netflix, and Oracle. The national awards will be handed out on October 28th during a public virtual ceremony streaming live worldwide on YouTube.
Timmy Awards' finalists in the Startup category have proven their agility, innovation, and resilience in an ever-changing environment.
"Through forward-thinking leadership and a positive work atmosphere, we're excited to recognize these companies that thrived in 2021 and are changing the landscape of their field," said Walker.
Bluedot's location technology provides pinpoint accuracy that is 20X more precise than any other mobile location provider, down to half a car length. The solution immediately detects the exact moment a customer enters the drive-thru, arrives at curbside, or walks into a store. Latency is measured in milliseconds, not minutes. This means customers are automatically checked in on arrival (and staff alerted) without the need to call, text, or go inside to notify staff. 
For instance, when a customer places a mobile order and arrives on-site for pickup, brands such as Dunkin' will acknowledge the customer's arrival automatically, ask him/her to skip the menu board, speaker box and payment window, and go directly to the pickup window. Not only does this save time for the customer, but also helps to increase the number of vehicles that can be serviced. Bluedot is 100% software-based. No beacons or hardware is required. 
In addition to Bluedot's proprietary location technology, the company has also significantly expanded its technology suite with the launch of Tempo, Hello Screens, and Wave to empower brands to meet the demand for shorter wait times and to create a personalized customer experience. Its gamification solution enables brands to take advantage of location-based augmented reality (AR).
This is Bluedot's second Timmy Award nomination. They were recognized by Tech in Motion as the Best Tech Workplace Diversity Honoree in 2019.
About Tech in Motion Events
Tech in Motion is a North American events series that brings local tech community professionals together to connect, learn and innovate. What started as a passion project in 2011, for IT staffing and recruiting firm Motion Recruitment, grew into an organization of over 250,000 members across 14 chapters in North America including Atlanta, Boston, Charlotte, Chicago, Dallas, LA, New York, Orange County, Philadelphia, Phoenix, San Francisco, Silicon Valley, Toronto, and Washington, D.C. Please visit http://www.techinmotionevents.com for more information about our notable speakers, sponsors and events.
About Bluedot
Bluedot is a customer arrival platform that empowers brands to provide real-time interactions and pickup solutions. The company's hyper-accurate geofencing technology enables brands to provide timely messaging and offers, automated loyalty identification, frictionless curbside pickups, and more. Trusted by global brands that include Federal Realty, McDonald's, Dunkin', Six Flags, and IAG for easy implementation, scalability, accuracy, and reliability.