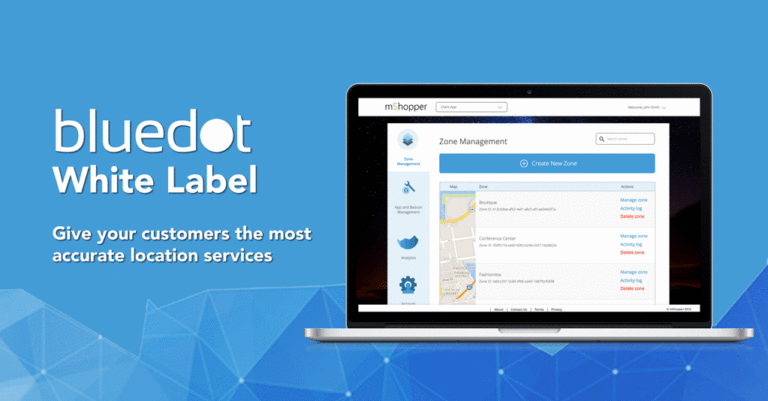 Boost Your Mobile Marketing With Bluedot White Label
We are proud to announce that Bluedot White Label is now available as part of our latest product release (version 1.7). Through this new offering, you can integrate the Bluedot platform and map interface into your product environment and under your brand.
Bluedot White Label is a full self-service platform that allows your business customers to directly customize locations that are relevant to them. They can send targeted ads and other content to their user's mobile devices based on the user's location, behavior and circumstances, such as the time of day or the weather. All of this happens within your own branded environment.
Sign Up for Demo of Bluedot White Label 
Our solution allows you to tap into the rapidly growing location services market. According to research firm TechNavio, the global enterprise location-based service and advertising market is projected to reach $7.6 billion by 2020.White Label partners can offer a location services solution that's both flexible and scalable. We've built an easy-to-use platform where you can create an unlimited number of locations, anywhere in the world. Your customers will be able to easily manage their own locations in real-time. Bluedot enables you to transform your product offering and customer experience without the need to build your own. Instead, you can focus on what you do best.
FroogaliT, a global enterprise solutions company that also provides custom software development, was able to instantly expand its product offering with the launch of FroogalFencing, a turn-key location services platform powered by Bluedot.
"Bluedot's white label service enables us to deliver the most disruptive location technology on the market directly to our own customers and with our own branding," says Alex Hilton, Founder and CEO of FroogaliT. "Using the FroogalFencing platform, our customers can harness the accuracy and scalability of Bluedot's location services to develop mobile apps and monetize their business."

Bluedot White Label provides a complete out-of-the-box platform for clients or partners looking to differentiate their mobile or marketing solution.
Our team is happy to give you a personalized tour of the Bluedot platform. Schedule a demo with us here.