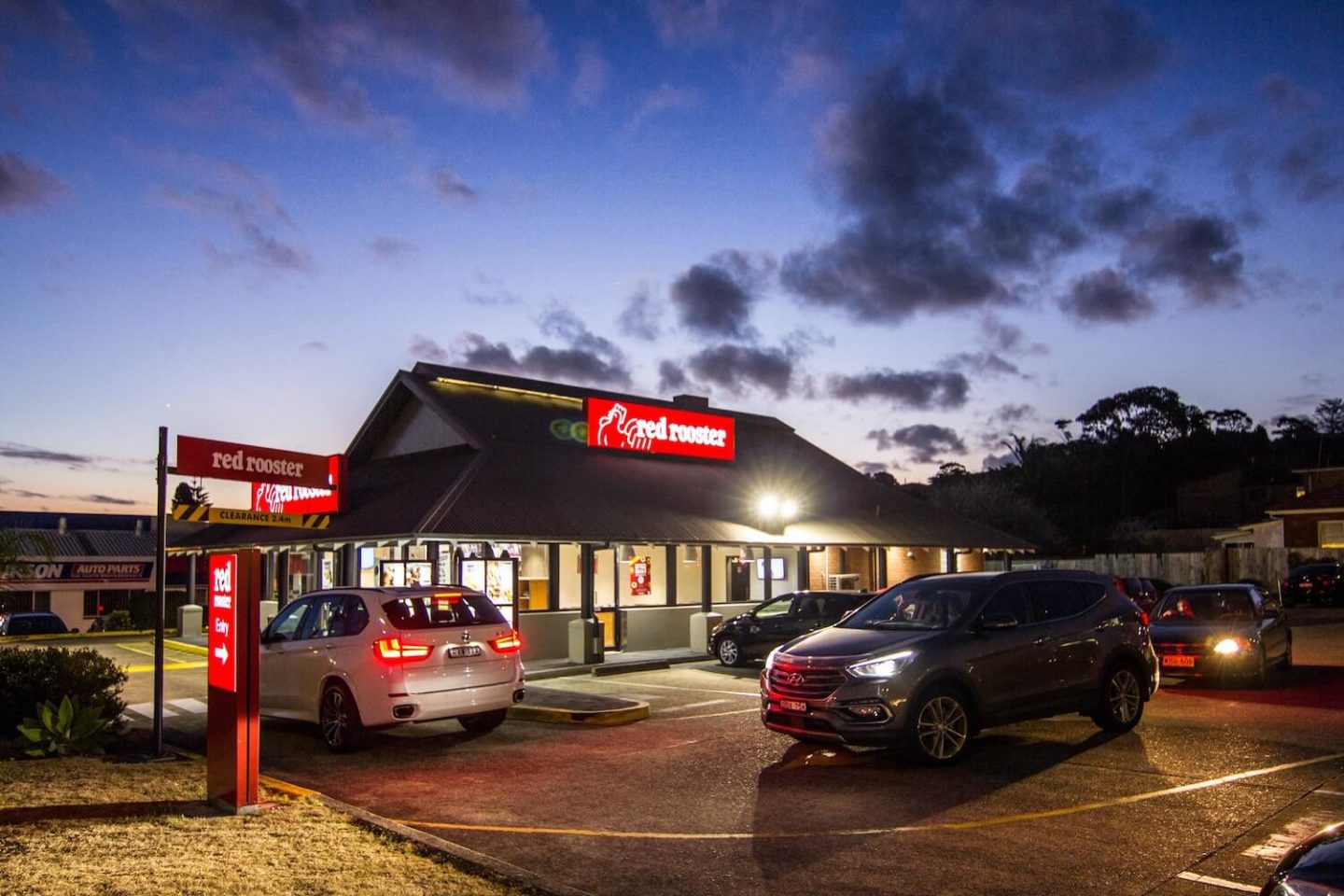 Drive-Thru and the Restaurant of the Future
Quick service restaurants (QSRs) have been accommodating consumer demand for a speedy, convenient meal with fast food drive-thru service for over 70 years.  
Drive-Thru 1.0 – the Original Flavor 
Consider the typical drive-thru experience. It's noon. You're on the road and hungry, with only a couple of minutes to pick up something to eat. You cruise past one fast food drive-thru after another looking for a short line so you can get lunch as quickly as possible and get back on the road.  
You finally commit to a drive-thru line, but with wait times up to 30 minutes or more during a lunch rush, a bottleneck of cars backing up into the street, and multiple stops along the drive-thru journey,  your "quick lunch" isn't all that quick or convenient. 
Evolution of the Drive-Thru to Meet Consumer Demands
The convenience of grabbing food without leaving your car was first popularized in 1921 when a Texas chain of eateries called The Pig Stand opened its first drive-in. Customers were greeted by carhops serving food on trays attached to car windows.
Jump forward to 1948 when the In-n-Out Burger restaurant chain, with no indoor seating or parking facility, was the first to offer a drive through scenario, equipped with an intercom ordering system.  
Quick serve restaurants have continued evolving since 1948 as more customers visit the drive-thru more often and demanded much more than carhop window service. In addition to a freshly prepared meal, they expect efficiency, speed, safety, and personalization.  In fact, 81 % of consumers said that waiting 10 or more minutes in a drive-thru was too long. 
With consumers looking for faster, more convenient ways of ordering food, these numbers will continue to rise and restaurants must adapt or risk losing patrons.
So what does the restaurant of the future look like? And how will it transform the customer experience? 
Drive-Thru 2.0 - New and Improved 
Let's go back to ordering your lunch. Imagine pulling out your phone before you hit the road and placing a mobile order at your favorite fast food restaurant. With location permission granted, the QSR anticipates your arrival and fires off the kitchen ticket at just the right time.
You arrive at the drive-thru, skip the speaker box and payment windows in the "mobile-only" lane, stopping only at the pickup window where a staff member greets you by name and delivers your freshly prepared order. 
You simply order, grab, and go. This frictionless experience is the drive-thru of the future.  
Technology to Power the Drive-Thru of the Future
If restaurants want to be ahead of the curve, operators will have to offer customers a seamless, efficient, and personalized experience. A few technologies combined with new consumer behaviors make the drive-thru of the future a reality today.
1. Mobile Apps
While apps have been around for years, it's only been in the last year that people are downloading more restaurant apps and placing more mobile orders. In fact, 88% of consumers use mobile apps the same amount or more often than before to order food.
The mobile app is no longer a nice-to-have, interactive loyalty card. It's an essential component for delivering a seamless customer experience.
2. Location Technology (Geofencing)
With a surge in mobile order ahead, location is essential for predicting customer ETA, firing kitchen tickets at just the right time, and alerting staff of customer arrival via in-store screens. Geofencing technology seamlessly connects the online and in-person customer experience in addition to improving operational efficiency for restaurant operators. Since geofencing is 100% hardware-free, operators can easily implement and quickly scale the technology across all locations.
BONUS: Instantly detecting when users cross high-accuracy geofences means not having to rely on questionable privacy practices such as continuously track customers in order to deliver this service.
3. Personalized, Digital Menu Boards
For non-mobile orders in the drive through, restaurants can use location to power personalized digital menu boards on the fly. With pinpoint accuracy, the customer is detected as they pull up to the menu board where it immediately shows personalized recommendations based on previous orders, related items, and their loyalty score to save time and offering upsells. "Hello Riley, here's your most recent order. You might also like…"
4. Contactless Payments
Current safety guidelines amid the COVID-19 pandemic have accelerated the use of contactless payments, whether via the app or contactless readers at the payment or pickup window. While necessity might have been the catalyst, contactless payments are here to stay as a quicker, more convenient payment method for consumers on-the-go.
Getting Started
As customers continue to seek faster, safer, more efficient dining options, restaurant operators need to accelerate their technology roadmap to meet this demand and stay ahead of the competition.
Want to learn more about creating frictionless drive-thrus that future-proof your restaurant? Request a demo today!