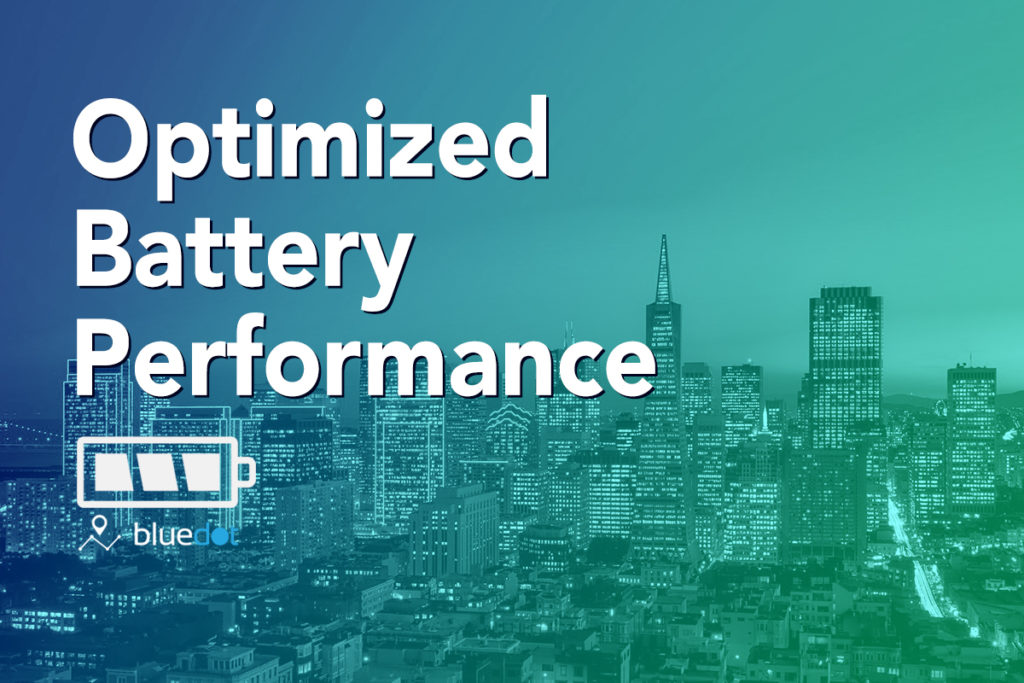 Bluedot's Improved Battery Performance
The purpose with which Bluedot was founded was to push the boundaries of what is considered possible in technology and to transform the way we connect with the physical and digital world around us.
However, pushing the envelope of any technology often requires a dedicated effort, in order to break previously insurmountable barriers. One of the most important barriers in location technology is the trade-off between the accuracy of location awareness and the battery drain that is incurred as a result of it.
While Bluedot's breakthrough technology already delivers unprecedented performance, combining accuracy of location services with low battery drain, enough is never enough. As such, at Bluedot we strive to continuously improve upon our product and keep pushing the envelope. We are pleased to announce the release of the next evolution of our technology and the newest version of our Bluedot Point iOS SDK - V1.9.3.
The latest release goes even further in improving user experience by going even further in cutting down one of the biggest contributors to a bad customer experience – battery drain. Rather than just quoting statistics and numbers, we also want to show the lengths to which we go in order to both improve our technology and measure those improvements and measure your customer experience.
The Bluedot Advantage
Bluedot's breakthrough location technology was designed to optimize how location technology can be used in smartphones. Usually location technology in mobile phones is viewed in a very narrow and isolated way. Technologies like Wi-Fi and GPS can be individually used to determine the location of a smartphone but they all have their individual benefits and drawbacks. As an example, GPS is very accurate but drains battery while, Wi-Fi is battery friendly but lacks accuracy and requires Wi-Fi networks to be available. In geofencing such as the technology available in iOS and Android, the common practice is to scale back the accuracy with which we can determine when user enters an area, to no more than 328 ft (100 m) – solely because of the battery drain higher accuracies cause.
While working in isolation, each of these methods faces significant limitations, but when combined, location technologies become more powerful as they can compensate for the inadequacies of its counterparts. Most location technologies today use a combination of individual sensors and inputs; however, they still often miss a significant part of the puzzle – personalization.
While standard location technologies operate in the same way for every user, Bluedot's cutting edge technology is designed to be personalized and contextualized. We spend countless hours developing new ways to understand user behavior and tie in the performance of our technology to each individual user. We quite literally make the chips in your phone react to you and how you behave, your preferences and needs and the relevant location around you.
In the V1.9.3 release of our technology we have taken this relationship between you and the technology you use every day to the next step. It goes further in understanding when any individual user of our technology does not need location services by growing the number of sensors we deactivate based on user behavior and fine tuning the way we activate and deactivate them as well as how and when we switch between or combine individual sensors. This has delivered us considerable improvements over previous versions of our technology by further lowering battery drain rates and the following scenario describes both our testing procedures, the results we achieved and how much we have improved our technology.
Up to 25% Improved Battery Performance
To measure the reduction in battery, drain in the latest version of our iOS SDK identical tests were performed on six different iPhones ranging from an iPhone 5S to a 7 Plus. The latest development of Bluedot's technology achieved an average reduction in battery drain of over 19% in comparison to the older version. However, newer devices like the iPhone 7 and 7 Plus saw reductions in battery drain by close to 25%.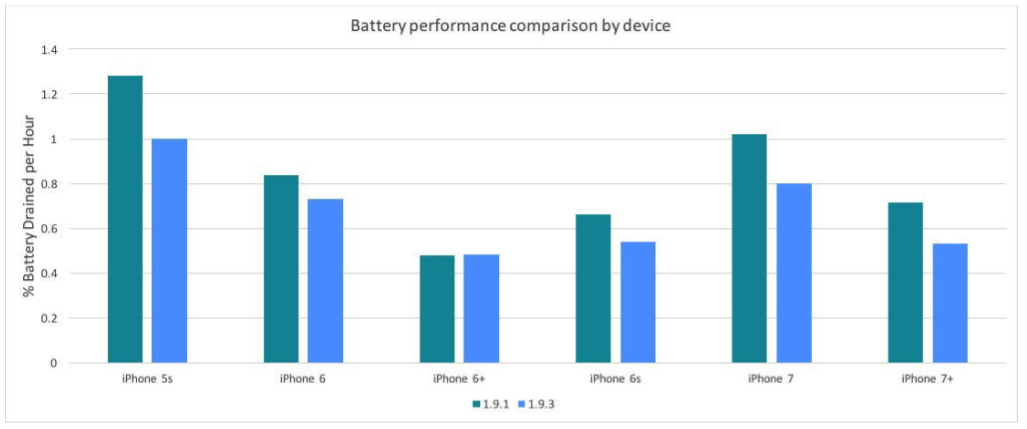 Sign up for a demo today.