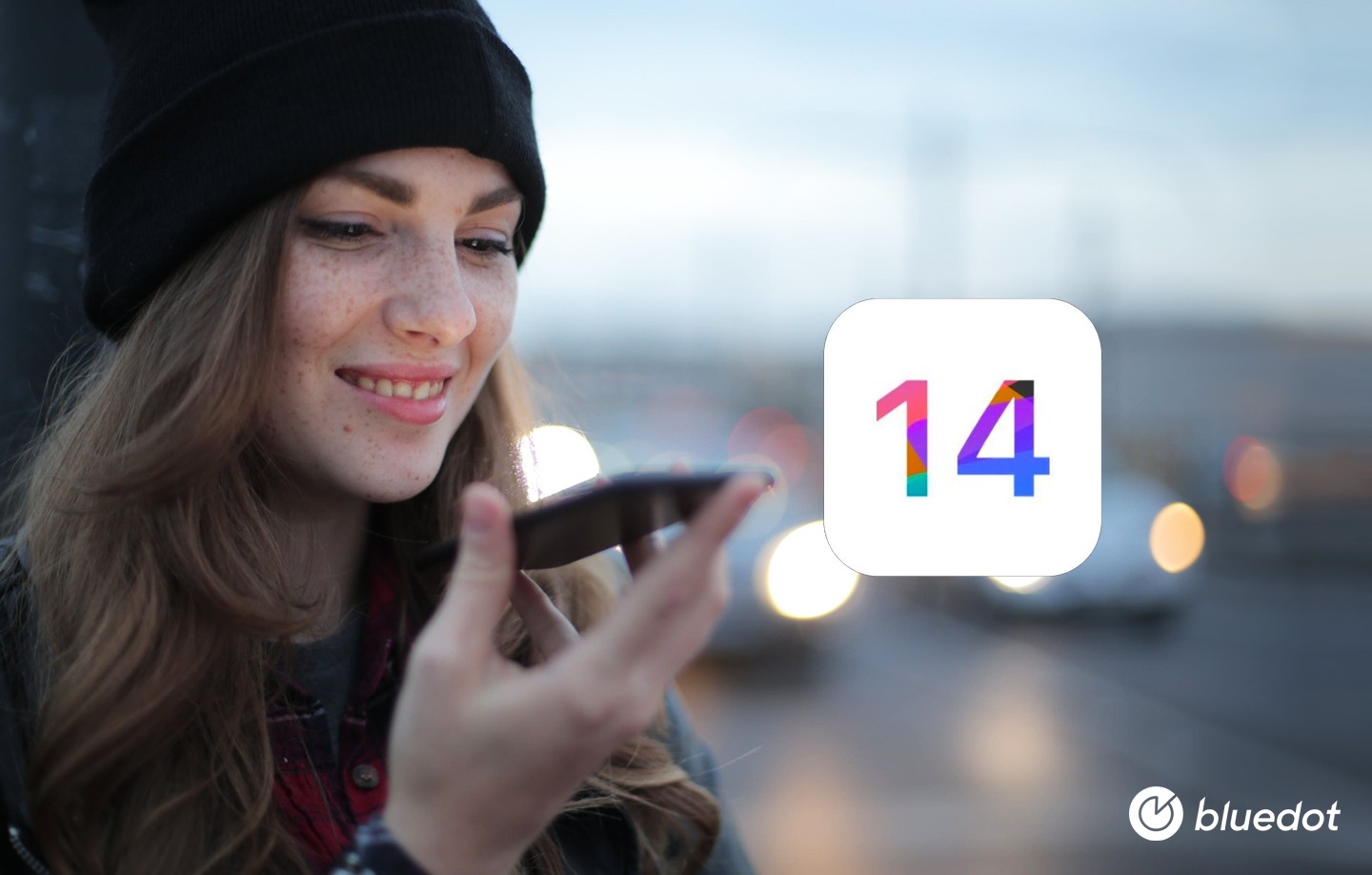 iOS 14 Location Permissions
With the arrival of fall, for mobile technology, it signals Apple's latest major iOS update. Like previous updates, iOS 14 brings many new features and functionality, including updates to location data and location permissions.
Before we dive into these changes for iOS 14, let's quickly review iOS 13 location updates. 
iOS 13 Refresher
"Allow Once" Introduced, "Always Allow" Deferred
Apple introduced a new location permission last year that allowed users to grant access to location only once - "Allow Once" location permission. The first time location is requested, the only options are "Allow Once" or "Allow While Using." If someone selected "Allow While Using," the app could then in the future prompt for "Always Allow."
Background Location Map
Another new iOS 13 location permission was the introduction of the background location map that would show users where the app had detected their location, displayed in recent days or weeks. This background location map was paired with a prompt to "Switch to Allow While Using or Keep Always Allow." 
This was a watershed year for the location industry - with Apple creating greater (and much-needed) transparency between apps and their users.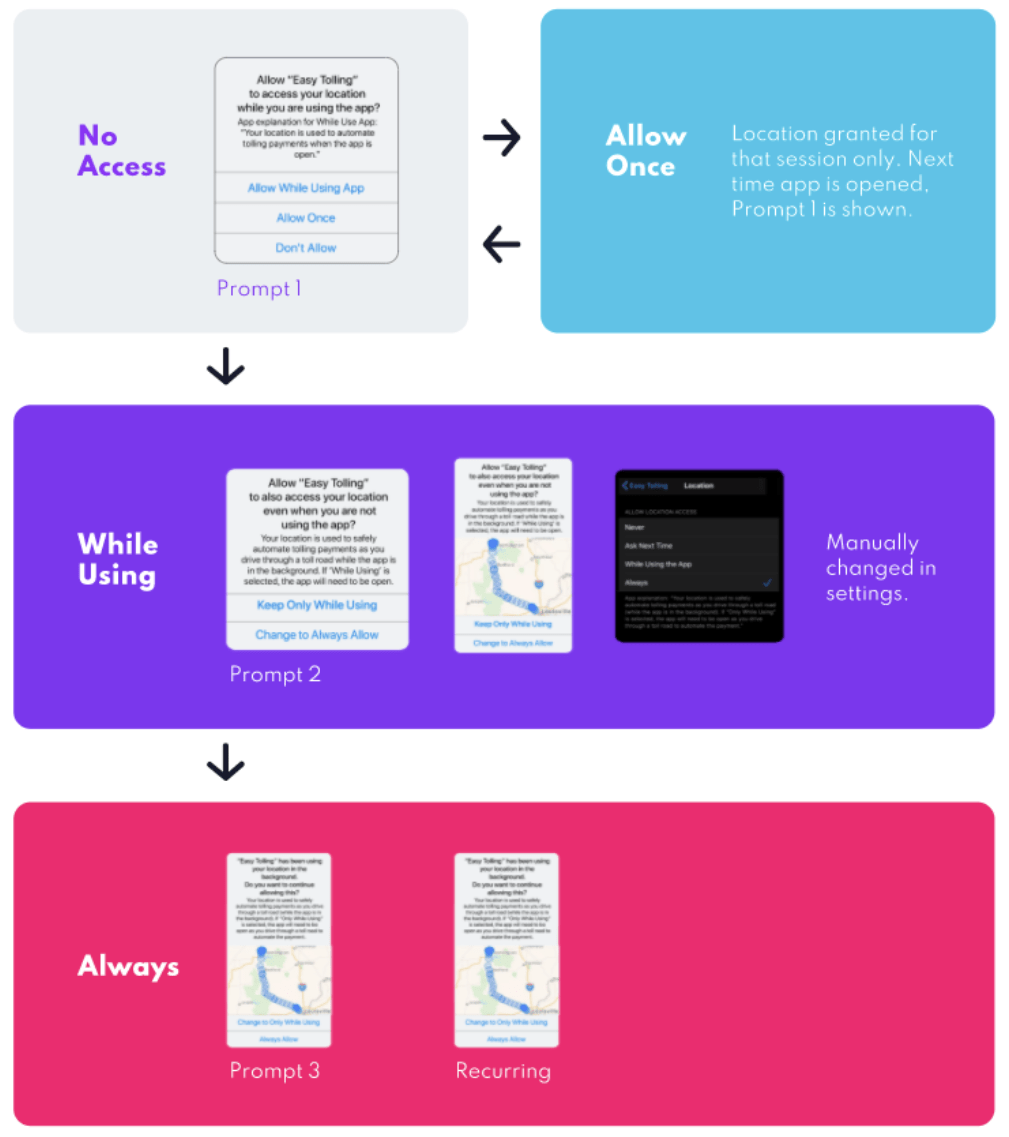 iOS 14 Location Permissions
As Apple builds upon previous functionality, iOS 14 fine tunes privacy controls for the end-user.
What's New for Location? Precise and Approximate Location
The biggest change to location permissions in iOS 14 is the introduction of precise vs. approximate location. Aptly named, Precise Location allows an app to detect semi-precise location of the end-user, usually anywhere from 50-200 meter radius.  This functionality has always been available in previous iOS versions. Historically and now, apps utilizing Bluedot's technology could achieve even greater accuracy, down to 10 meters (ie. curbside parking spots). 
New to iOS 14, users are given the option to turn precise "off." However, iOS 14 is set to default to precise "on."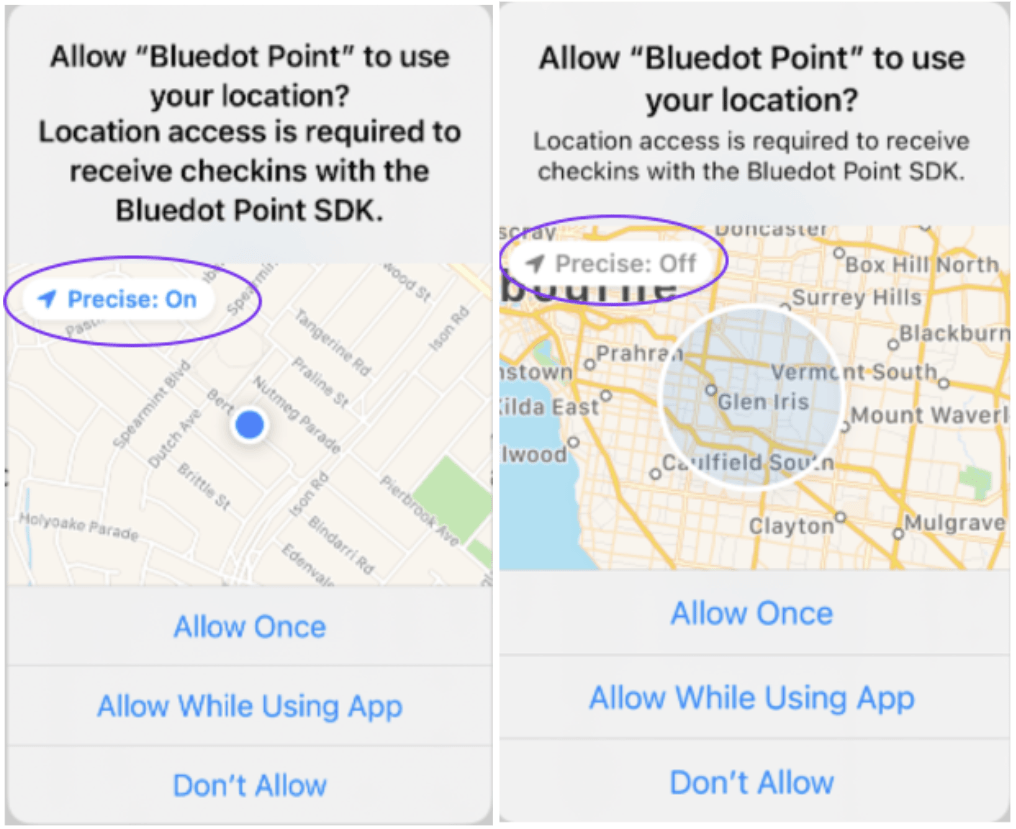 If the user chooses to switch Precise Location to "off," only their Approximate Location will be detected. Apple has divided up the globe into various sized regions of up to 20km in diameter to generate a general location that is updated a couple of times an hour.
Whereas "Precise: On" provides location within a couple of blocks, "Precise: Off" provides location over an entire area such as a city. 
iOS 14 Precise Location Prompt: When to Ask for Permission
In general, precise "off" permissioning provides very high-level information and can be used in advertising for developers. Conversely, precise "on" affords businesses and app developers contextual information that otherwise would not be available. For instance, knowing if a customer is approaching for a mobile pickup and/ or even automating the check-in process for that pickup.
Knowing when to ask for location permission is critical for app developers and could mean the difference between successfully engaging users and getting deleted altogether. In order to get the timing right, we first need to clearly understand exactly which permission should be requested.
Here's a recap of all the possible location permissions:

The best time to ask for precise location permission is after onboarding once the user has clearly seen the value that will be delivered in exchange for location permission. For example, a restaurant app may wait to request location permission until the end-user is placing a mobile order. At that point, a pre-prompt can be shown to prepare the user: "Want your order fresh and ready when you arrive? By granting location permission, we can begin your order at just the right time so it's fresh when you get here." 
If a user selects "Yes" to the location pre-prompt, then the app can officially request location permission. If the user selects "No thanks" the iOS 14 location prompt can be saved for another time (such as their next order). 
A best practice is to avoid asking permission for location immediately upon downloading and launching the app as users are more likely to feel overwhelmed and decline the request.
iOS 14 Location Permissions in User Settings
If a user declines the in-app location prompt (shown above), app developers can direct users to update their permissions at any time by deep linking to location permissions in User Settings.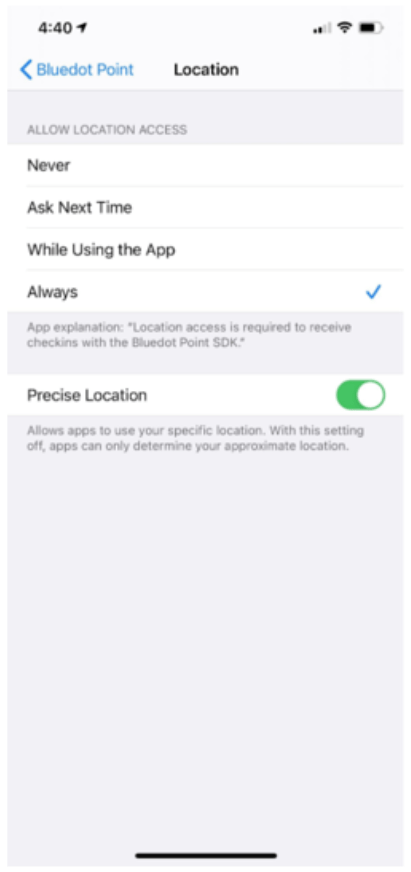 One-Off Location Permission Requests
Additionally, app developers have the option of prompting a one-off location permission request for users to grant precise location one time. This is an ongoing tool app developers have at their disposal to power specific one-off, time-bound requests in the app.
iOS 14 Location Permissions: User Experience (UX) 
What do brands need to know?
Precise location is the permission brands need to deliver valuable, high-impact experiences for users such as automated check-in, frictionless drive-thru, timely orders prepared fresh on customer arrival, cashless tolling via mobile, etc. 
For most apps, approximate location isn't precise enough to deliver the remarkable experiences that users expect when granting location.
Obvious benefits: why should users grant location permission?
Now more than ever apps need to clearly demonstrate value to their users when requesting location permission. What's the immediate, tangible benefit for the user? How will location improve the ongoing experience? Is the value proportional to the location permission requested (whether allow once, while using the app, or always)?
If the benefit to the end-user isn't obvious, consider redesigning the user experience to deliver more value. For example, consider creating a location-based gamified experience or delivering a seamless curbside pickup by detecting when the customer arrives at the restaurant. Use location tactically (e.g. mobile order pickup) to provide value and build trust with end-users.
iOS 14 Location Permissions: the Bottom Line
When it comes to consumer experience (CX) and trust, clarity is king. Say exactly what users will get and how their location data will be utilized. Remarkable experiences don't happen on their own. In the world of mobile technology, it takes a clear vision of the customer journey and its intended experience, great UX design to match that vision and finally, thoughtful, well-timed communication.