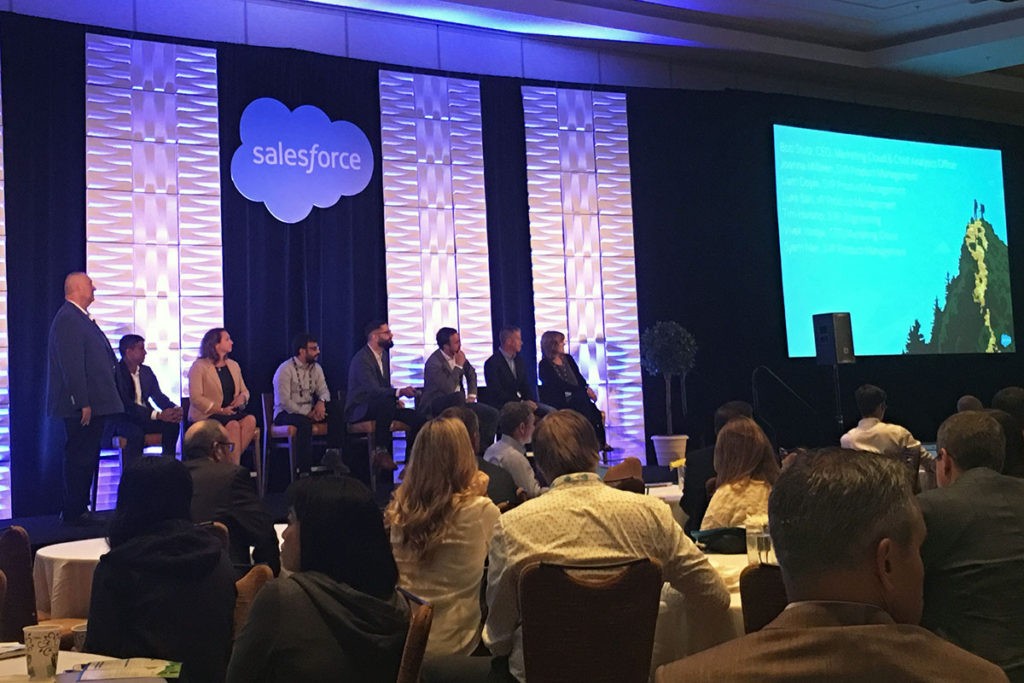 Why Place Matters for Salesforce Customers
We're getting used to the good life as consumers. Everything on demand, incredibly fast and suited to our taste. We don't necessarily care how our needs are met, just that it works and that we have a consistent experience across the channels we use, whether it's mobile, social, in the car or in-store.
Marketers have realized this and are scrambling to keep up and to cut through the extreme amount of noise we're bombarded with. According to Salesforce's 2017 international State of Marketing report, enterprises on average manage a staggering 11 channels to interact with their customers, with 34% of marketing budgets reportedly spent on channels that didn't exist five years ago.

But how do you understand your customer and interact with them in a coherent way across all these channels? Accurate and scalable location technology is an essential part of the answer because it can pull together the channels that are managed by a brand and match them on mobile to the customer's circumstances, at the point they need, want or will enjoy the interaction most. This is why place matters for Salesforce customers. It's not just any place, but rather the place that matters on your journey today.
But my needs today are going to be very different to what I need tomorrow so how do I have a relevant and effective experience when and where I need it? I've been at the Salesforce Marketing Cloud Summit this week where the focus has been on a new era of predictive personalization and real-time engagement. According to the State of Marketing report, nearly 70% of marketing leaders say their company is increasingly competing on the basis of customer experience, and that creating a connected customer journey is critical to the success of their overall marketing strategy.
With real-time interactive engagement, a brand isn't relying on a pre-determined workflow but instead responds dynamically to data you generate or decisions you make. Not aggregated or assumed but 1:1. This is all possible now because advanced location tech is complemented by the combination of Einstein's AI-based feature set, along with the recent acquisition of data management platform Krux, now known as Salesforce DMP. Rich audiences are built based on existing anonymized data sets that have been unlocked, with tailored interactions delivered programmatically based on the requests and reactions of each individual user. To make this happen, marketers are focusing behind the scenes on a single view of the customer across all of their interactions, whether marketing, sales or service. These unique customer profiles help marketers deliver a personalized and coordinated brand experience across all touch points.
With our customers in hospitality – whether it's fast casual or premium providers – it's all about building the right audience using location, interacting in real-time, then providing an unbeatable experience all the way to the end of their journey. Imagine that you receive an invitation to the opening of a new wine bar just as you're deciding where to go with friends, and you're immediately attracted because your favorite wines are available. After a memorable night, you receive an offer to go to your favorite winery on the long weekend for a select tasting at the cellar door. You interact in-app to the invitation, which kicks off a new 'journey' tailored for you and your friends. You receive meaningful location-based notifications as you drive to the winery, guiding you comfortably to the final destination. The team knows you're arriving and greets you with the first glass as you arrive. You purchase a half dozen bottles of your favorite wines on the app, which triggers a delivery and customer service journey that ensures your wines are delivered to your door when you're at home. This is the definition of a customer experience that's effective and enjoyable because it's immediately relevant to your mood, your interests and, most importantly, your location.
Accurate location services matter for Salesforce's customers because brands can understand their customers by building bigger and more segmented audiences. The brand can then interact with the right people, at scale or one-on-one, providing a personalized and relevant experience that gives them a sustained advantage over the competition.
Register to meet with Emil in person at Salesforce Connections in Chicago, June 12-14.