How Inflation Impacts Restaurants: 5 Data Points About Dining Habits
Inflation has cooled a bit from its peak of 9.1% in the summer of 2022, but its ongoing effects can still be felt. Among other things, inflation caused restaurant food costs to rise sharply, along with the cost of labor.
Many of those costs found their way to restaurant menu prices. As a result, just as in-person dining started returning to normal, customers began reacting to the food cost increases.
It's no surprise restaurant prices and inflation have changed dining behaviors for 83% of consumers, according to The State of What Feeds Us, Vol. 7. Released in September 2022, the report surveyed a national sample of 1,631 Americans in August, not long after inflation rates hit their peak.
Original research like the SWFU series offers a unique view into the effects of inflation on dining habits:
How many consumers have noticed restaurant pricing increases?
How are diners responding to food inflation?
Are value menus gaining popularity?
Which types of dining are most impacted by inflation?
Where are consumers looking for deals and discounts?
Is Restaurant Pricing More Expensive Because of Inflation?
Consumers certainly think so. An overwhelming 91% say they've noticed price increases at restaurants. In fact, when we asked them the same question in September 2021, 85% of consumers had already noticed rising food prices over time, according to The State of What Feeds Us, Vol. 5.
According to the Bureau of Labor Statistics, they're right: as of October 2022, the price of food consumed away from home rose 8.6% from the previous year.
Consumers also noticed the effects of shrinkflation, with 77% saying they pay the same for smaller portions. 
How Are Diners Responding to Restaurant Inflation? 
While the cost of dining rose, however, grocery prices surged more than 11% in the same timeframe. At-home dining is more expensive than before, but a full 83% of consumers cut back on restaurant visits anyway. Most of them cited fuel costs and having less money available.
At the same time, those who continued going out to eat made a few changes:
46% cut back on fast food
37% now order less expensive items
32% order fewer menu items
20% visit nearby restaurants to save on gas
14% eat more fast food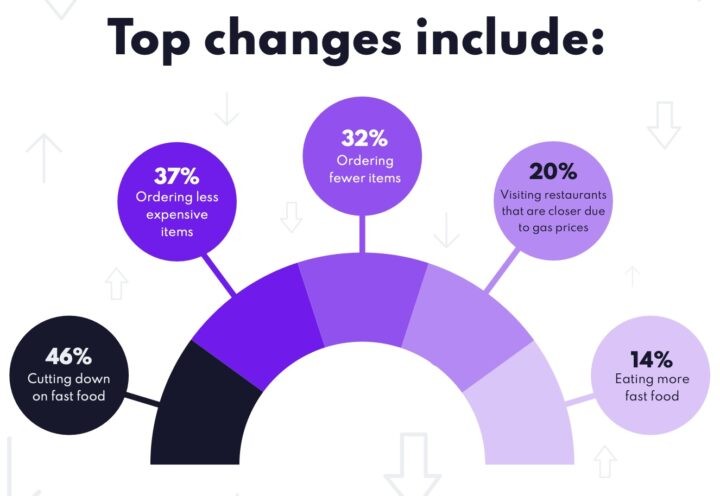 Not surprisingly, value menus are seen as an important way to save.
Value Menus Are Gaining Popularity
Due to food inflation rates, 73% of diners order from value menus more often.
While people look to value menus for cheaper options, they're not always happy about it: Among those who order from the value menu to save on costs, 31% say they'd prefer not to if given the choice. Restaurant owners should be mindful of that. 
Inflation's Impact on Different Types of Dining
Full-service restaurants have felt the cost of inflation more than the rest of the restaurant industry. According to the latest report, 50% of diners are reducing their visits to sit-down restaurants.
The next hardest-hit sector is coffee chains, where 47% of diners visit less often because of food inflation. Following that is fast-casual restaurants, where 43% of diners have cut back.
Some industries haven't been hit as hard. Only 24% of consumers say their c-store food consumption has gone down, and just 27% of independent coffee shop patrons are reducing their visits. 
How Are Consumers Finding Deals? 
Of course, value menus are a popular way to cut costs on dining, but consumers also look for discounts elsewhere. Two thirds download restaurant apps or loyalty programs to find deals, special offers and freebies.
For more insights, download the State of What Feeds Us Vol. 5 and Vol. 7 reports. Contact us for a free demo to learn how Bluedot helps restaurants and convenience stores improve customer experience.