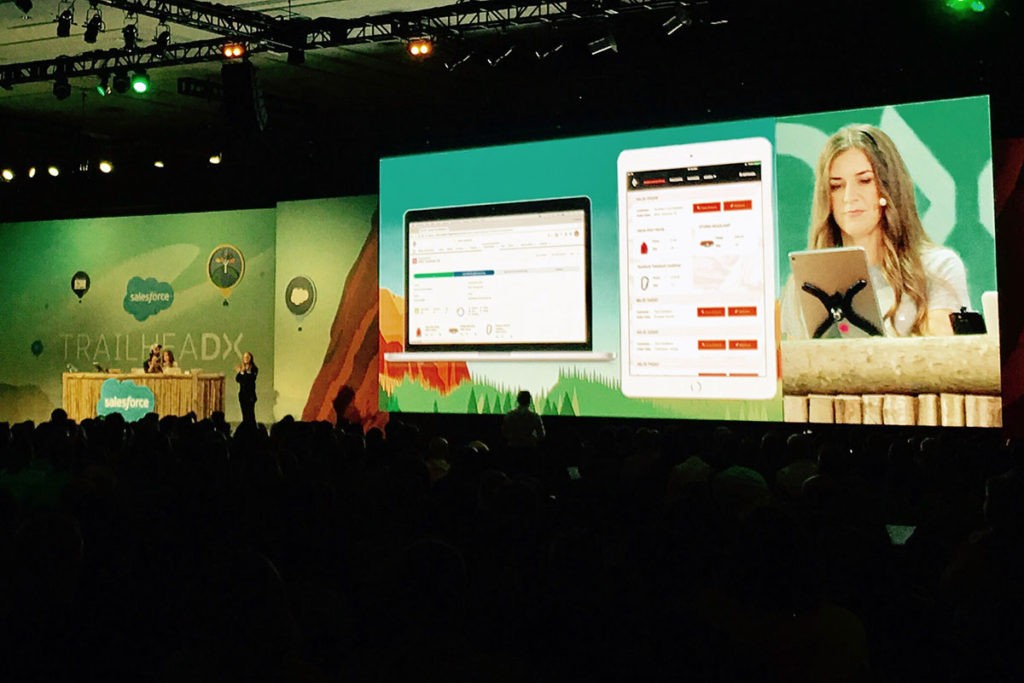 Experience and the Age of the Customer
We attended Salesforce's TrailheaDX developer conference in San Francisco last week. As a Salesforce partner, it's always great to see the latest technology and the most innovative companies in the ecosystem.
So much of the event, including the keynote from Salesforce Co-Founder Parker Harris, focused on how Salesforce and its partners are delivering the 'Age of the Customer'. In other words, enterprises for the first time have a single view of their customer, through 'unified commerce', actionable analytics, intelligent apps, predictive marketing, and connected products. They have a single picture of all the touchpoints with a customer. Location and context are critical elements in this picture.
When you look at the history of the location services market, the widespread use of inaccurate and unscalable technology has forced most location-based businesses into a modern version of spam marketing, where incremental ROI through ad blasts is good enough. But the Age of the Customer demands so much more. Of course it still involves marketing and sales but it now encompasses a completely different understanding of the customer, across their full journey and experience.
It's not just about 'what do I want to buy?'. It's about sentiment, intent and need. It's 'what do I want to experience?'. Regardless if it's as prosaic as having my customer service issue resolved painlessly or a transformative experience while I travel internationally. It's about moments that take care of my needs, and experiences that I can then share with my friends.
Accurate location and contextual interaction are lynchpins for these experiences. Why does a notification from my favorite company, no matter how interesting, actually matter if it's at the wrong time and place? Do you care if there's a cheaper car loan available if you're not in the market for a new car? How about tickets to see a band that you don't like or that's playing when you're out of town? It's the mobile equivalent of a letter in the wrong mailbox. It doesn't matter and it's a missed opportunity.
Location services have the power to connect the individual with the event they're interested in, the product they're looking for and the service they need. For businesses, connecting on mobile at the right time and place lets them reach, satisfy and entertain their customer. They can have a meaningful interaction with their customer. Behind the scenes, the location where the business delivered the meaningful experience for their customer is, in practical terms, where its CRM, marketing campaign, product, analytics engine and the hard work of their team converged to get the result.
At the conference I saw Salesforce's Einstein in action again. Einstein is a deep learning artificial intelligence engine that's integrated throughout the Salesforce platform, making it simple for an enterprise to analyze and leverage the oceans of data they now generate and access. It can recast how the business understands and interacts with its customer by analyzing unstructured data created by customers, like social media messages, uploaded images and voice commands given to connected devices like Siri and Alexa. Now add personalized and accurate location services to the mix and you can produce a powerful, customer-centric mobile experience.
Take just one example. You're traveling for business and land in a country you're unfamiliar with. Your mobile authenticates your identity and notifies your bank that you're traveling to avoid any unexpected disruptions to your account. You walk over to pick up your rental car and it's waiting for you; simply pick up your car and drive out, your phone checking you in and out of the rental area and updating your loyalty points in the process. You ask Siri for the address of your hotel and it pulls up navigation. You send a message via Facebook Messenger to the hotel asking if they can upgrade your room. Einstein evaluates the request and underlying tone of the message, automatically starts a workflow and upgrades your room as a loyal customer in minutes. When you arrive at the hotel, your mobile recognizes you've arrived and checks you in, allowing you to walk straight to your room and unlock the door with your mobile. The customer has benefited from a seamless experience that they will remember when planning their next trip. The enterprises involved have had timely and meaningful interactions that allow them to understand and add value for their customer and business.
Imagine the mobile moments of the future. Data that you've created as a consumer instantly affecting how a business responds to you. It's delivered to your fingertips when you arrive at the right location.
At Bluedot, we want to seamlessly connect people with the physical and digital world around them. Best-of-breed location services technology, combined with connected devices, mobile commerce and AI are a powerful combination. It's an exciting time for everyone, but it's the Age of the Customer.