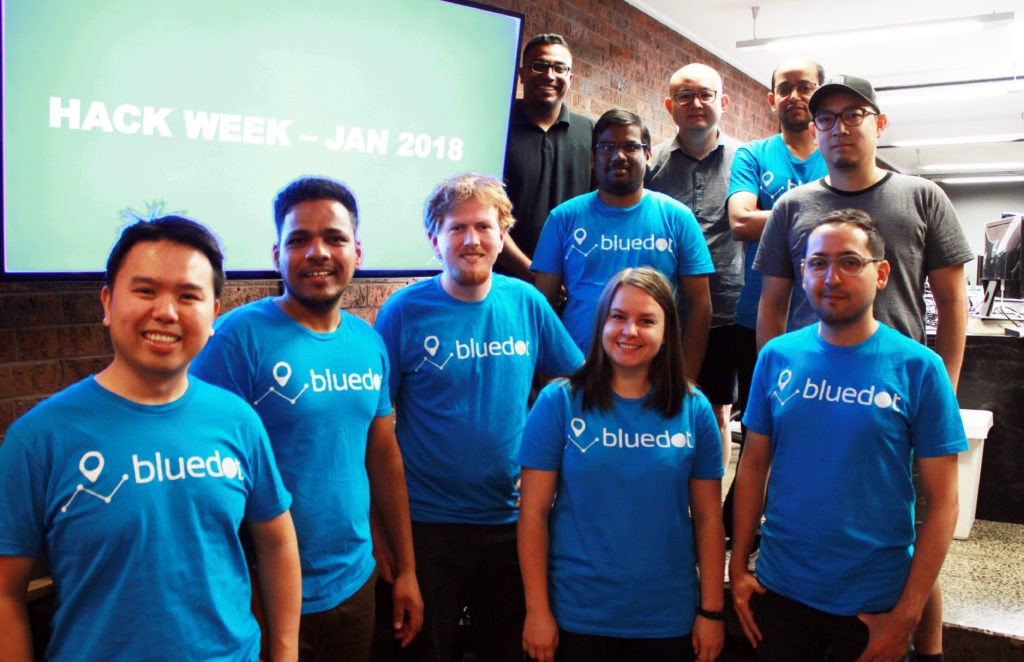 Kicking Off 2018 With Hack Week
A whole, full week, to work on whatever strikes your fancy. It doesn't have to be work-related, it doesn't even have to be technology related. Anything at all...
The entire Melbourne office let out a cheer when our CTO, Balendran, announced that we would be having our first Hack Week of 2018.
I've been in the startup tech industry for such a long time, that Hack Weeks and Hackathons are nothing new - It's usually a time where teams are formed to 'hack' on a pet project.
However, what took place over the following 5 days is proof that it's not always what you do that is important. It's how you do it and who you do it with. It also reinforced my opinion that Bluedot Innovation is one of the most interesting companies to work in.
We kicked off the week with an office-wide, idea pitch, where everyone is invited to pitch an idea that they want to work on, over the next week. There were some interesting pitches, as expected from a company of diversified individuals from various backgrounds. Some chose to further our research on bleeding edge, experimental location algorithms, while, on the other end of the spectrum, we have project pitches that are based solely on improving productivity and efficiency.
Once the pitches were done and dusted, I was pleasantly surprised by the announcement of 'daily additional activities', and this is where the Bluedot Innovation Twist lies, from my point of view, the best part of the week.
This is how our itinerary looked:
Friday: Foosball Tournament
Monday: Mortal Kombat X Tournament
Tuesday: AWS Webinar, Team Pictionary
Wednesday: Tinball
Thursday: Potluck Lunch/ Office Cookoff, Presentation and Prize Giving Ceremony
While the nature of the Hack Week was undoubtedly playful, a lot of serious work was done over the week. Some of the projects are even on track to go into our product pipeline.
Time does fly when you're having fun. Hack Week went as quickly as it came. However, amidst the chaos, friendships were strengthened, and team spirit was renewed. I certainly had an amazing week and I'm sure the same can be said for all my wonderful colleagues.
Here are some of the projects that we came up with:
| | |
| --- | --- |
| Project topic | Short description |
| Enhanced Altitude | Algorithm for enhanced altitude telemetry, to further | push the boundary of altitude accuracy while | maintaining a low battery drain |
| Enhanced Motion | Exploring the usage of Neighbourhood Aware | Networking, as well as WiFi doppler shift and Free | Space Path Loss to improve distance/ movement | estimation |
| Indoor Navigation | Exploring the feasibility of indoor navigation | (without hardware, and without initialisation), | with a combination of Geomagnetic Fingerprinting and | WiFi Fingerprinting |
| Machine Learning | Testing various ML algorithms to our data for | enhanced analytics |