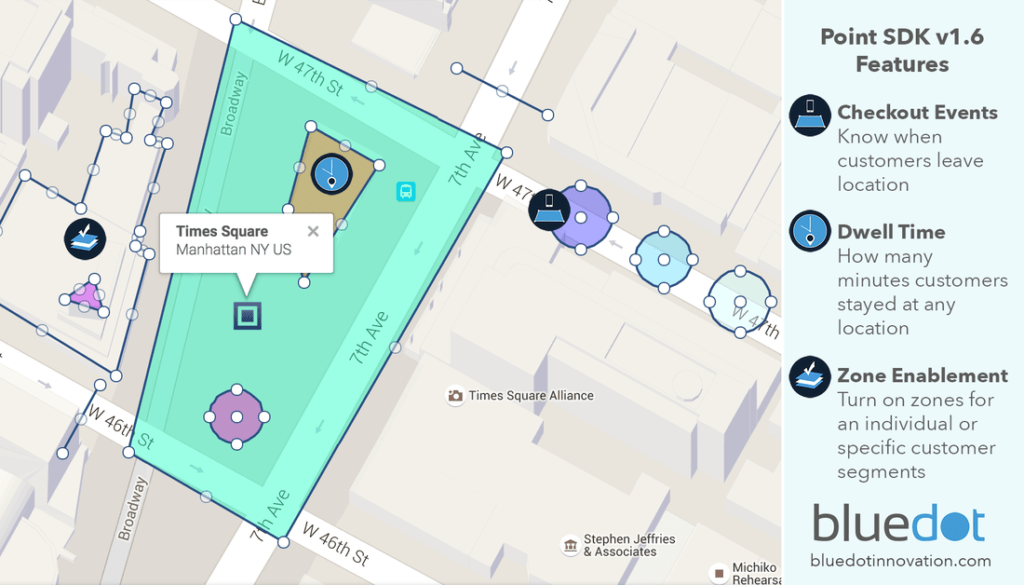 Introducing Bluedot's New SDK: Version 1.6 Release

---
We're excited to release the new Bluedot Point SDK (v1.6 for iOS and Android). This version exponentially increases your opportunities to interact with customers and gives greater control over when, where, and how location-based actions are triggered in their devices.  
 Here are the features of the new Point SDK: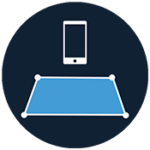 Trigger actions when customers leave a locationWe've introduced Checkout Events so you can initiate different location-based actions in your app when customers enter or exit an area.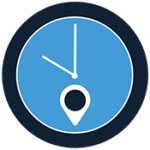 Know how long customers stay at a locationThe new Dwell Time feature will let you know the time customers are spending at each location. This data will help understand customer behavior so you can enhance their experience.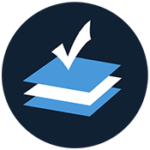 The most personalized locations in the market
Our Zone Enablement engine delivers unprecedented customization by allowing entire locations to 'appear' only for an individual or specific customer segments. Decide exactly when, where and how actions are triggered based on any data point, such as past customer behavior, real-time offers or external conditions like the weather.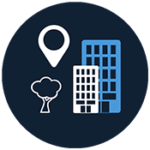 Seamlessly transition between indoor and outdoor environments
With Bluedot, you can manage Geofences, Geoline™ technology, and Bluetooth Low Energy Beacons through a single platform. The Point SDK automatically transitions between outdoor and indoor environments to provide a seamless experience for your customers.
Level Up Your Marketing:
How Bluedot Makes Real Estate Buying Easier
It's Saturday morning and Steve and Laura are driving by the neighborhood in San Francisco where Laura grew up. They're on their way home from breakfast with friends and talking about an episode from a popular Netflix series that they watched last night. Aside from training for their 7th marathon and traveling to Greece to see the Parthenon, Steve and Laura want to become first-time homeowners this year.
As they approach within 5 blocks of Laura's old neighborhood, her iPhone buzzes. It's a notification from her real estate app that reads: "Open house today for 3BD/2BA single-family home w/in-law unit at 555 10th Ave available at $1.5M. Click for directions."
"Let's go check it out," Laura tells Steve. This is exactly the type of home they've been searching for. She clicks on the notification and Google Maps directs them to the house.
When Steve and Laura enter the house, her mobile device chimes and she receives another notification that opens up a page with the full property details, nearby schools, and mortgage calculator. The couple tours the house and like what they see. Afterward, they hang out for 45 minutes talking to the real estate agent.
"I really like it," Laura tells Steve as they leave, "but I'd like to compare it with others in the area." As they sit in the car discussing, Laura's phone lets her know there are two other similar houses nearby. She taps on the message and books an appointment with the real estate agent for tomorrow.
Powerful Geolocation Engine 
What made Steve and Laura's real estate search easier? Bluedot's Point SDK lets you draw a Geofence around homes or nearby areas that match their search. Since our solution can trigger any location-based action, you're able to send a push-notification to Laura's phone and initiate driving directions in her mobile device.
When the couple entered the front door, they entered a Geofence that was set to be active only during the open house, from 10AM to 12PM that Saturday. When they left the house, the Geofence registered a "checkout event," letting you know the couple spent almost an hour viewing the property.
Additionally, the real estate agent was carrying a key fob with an attached beacon. This lets you know how many minutes the couple spent talking to the agent. You can use this data to see how the time spent talking to an agent or touring the house predicts the likelihood of a purchase.
Using Zone Conditioning and Zone Enablement, you can have zones appear only for target customers with a specific profile who are house hunting at certain time of day. Laura was meant to see the notification on the similar homes nearby because she met the conditions you set: a female in her mid-30s, an iPhone user, past behavior indicated she was serious about buying a home, and she had checked into an open house between 10AM and 11AM on a sunny Saturday morning.

See Bluedot in Action 
Want to try the Point SDK? You don't need to build an app or be a developer. Just download the Bluedot Point Demo App after you register for an account. You can then set locations and trigger actions in your device.
Learn more about the Point SDK and how to integrate it into your app by visiting our developer resources section.
Have an interesting use case to share? Tell us in the comments below!